Graduates living abroad urged to join local labour market
20-July-2013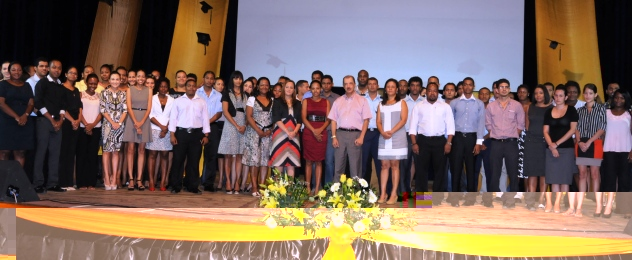 The appeal was made yesterday afternoon by Minister for Labour and Human Resource Development, Idith Alexander, in her address at a ceremony to welcome back the graduates who have returned.
The event, held at the International Conference Centre, was graced by the presence of President James Michel, ministers, leader of the opposition in the National Assembly David Pierre, members of the National Assembly and high government officials.
After a three-year pause, the event has been resumed and yesterday's ceremony was to welcome back the 2010 to 2012 cohorts, giving them the chance to meet and recount their experience at university.
This welcome back ceremony, which started in 2001, is a gesture on the part of the government to show its appreciation to the graduates for their achievements after completing their studies and for the contribution they will bring to Seychelles.
Graduates from the University of Seychelles were for the first time present for such ceremony.
Minister Alexander also called on the graduates to play an active role in paving the way for greater success, particularly in a time when the government is laying strong emphasis on social renaissance.
Minister Alexander addressing the gathering
She urged employers to work with the graduates to ensure that they know of their future prospects in their organisations.
Minister Alexander added that Seychellois students are among the top performers in the universities they attend.
During the ceremony, graduates gave presentations on the role of a graduate in the country, the graduates and their lifestyle, experience as a tertiary student and challenges of being a returning graduate and the National Human Resource Development Council as a service provider.
Prior to this ceremony, there were various presentations given to ensure that the graduates settle in the world of work and to provide them with information so that they can make informed decisions.