New supermarket opens tomorrow at Eden Plaza
22-July-2013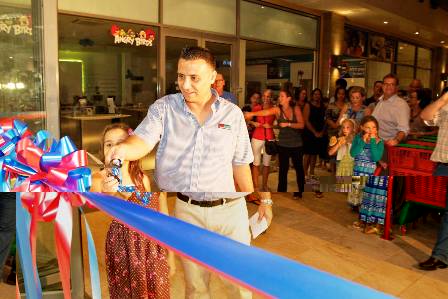 An affiliate of the SPAR Supermarket franchise chain with an international reputation for selling a wide range of quality products, FOODMART – as the new supermarket is called -- was officially unveiled on Friday at the modern and stylish Eden Plaza complex.

Foodmart is the brainchild of young Seychellois entrepreneur Samad Suleman, chief executive of Food Corp Pty Ltd. It is modeled on the SPAR concept, proposing an extensive variety of quality food and groceries at very competitive prices in a unique, modern and sophisticated supermarket of over 1,200m²
Over 200 invitees who included ministers, government officials, businessmen, Eden Island residents, media representatives, among other guests were present for the opening ceremony.
The cocktail launch started in a relaxed manner on the scenic deck of Eden Island Plaza, overlooking the lovely harbour area in the warm evening light of the sunset, where the special guests got served with refreshing Takamaka cocktails and delicious snacks coming from FOODMART's own kitchen.
After the atmospheric meet and greet, where Foodmart's management staff mingled with the crowd and a short welcome note by DJ Aubrey, Samad Suleman, the managing director and chief executive of Food Corp (Pty) Ltd -- the company behind FOODMART, thanked the guests for coming and explained FOODMART's concept together with his satisfaction that finally the long journey comes to an end with the operation starting tomorrow.
Mr Suleman explained that FOODMART is built following the concept of SPAR Supermarket Franchise, which has an international reputation for selling a wide range of quality products.
The young entrepreneur also explained that it is a technical matter, which does not allow them to name the supermarket at present directly as SPAR, the reason to go forward under the name FOODMART.

With the great support that SPAR's top management has given him, it looks very promising that this minor technicality will be overcome in the near future. What's more important is that they have adapted SPAR's core values.
"At heart of these core values are excellence in fresh foods, outstanding customer service and meeting local needs; always underpinned by genuine great prices. These values we incorporate in the core of our business," says Mr Suleman in a statement released to the press earlier last week. "The success and growth of the venture will be determined by how we ensure that our values are aligned with the values of our customers. Our focus on freshness, choice, quality, customer service and convenience is the point of difference of FOODMART from other retailers. This difference is rooted in the origins of our affiliated SPAR partner and us as independent local retailer serving the local community," Mr Suleman said, highlighting the company values and philosophy.
In his speech he thanked everybody involved, including his close family, with a special thanks to the start-up team sent from SPAR South Africa, who with their great expertise, was invaluable for helping set up the whole supermarket following international standards.
After the cocktail ceremony, the invitees and the management staff of FOODMART proceeded over to FOODMART, where Mr Suleman, assisted by his youngest daughter, cut the ribbon to mark the opening of the supermarket.
Guests were then taken on a tour of the supermarket and they were truly delighted by the new world of shopping which was unveiled.
At the bakery counter, the guests got a taste of the delicious bakery products.
Guests touring the supermarket to see what's on offer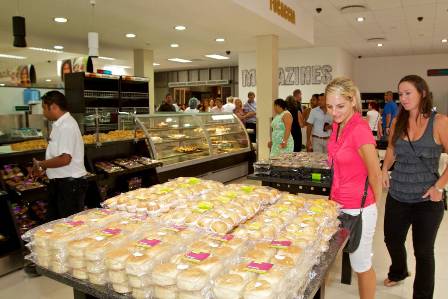 Besides an extensive range of groceries, the supermarket boasts several specialised sections offering the widest choices. These range from fresh fruit and vegetable selections, cheeses and cold cuts, in-house bakery and confectionary, butcher's outlet for quality fresh meat as well as a 'meals to go' counter catering for freshly cooked dishes and savoury snacks. Culinary delicacies such as freshly prepared Sushi and other gourmet dishes provide shoppers with a unique shopping experience. An extensive range of SPAR branded products is also on offer.
The supermarket also offers an extensive range of wines and spirits, cigarettes, a telecommunications top-up counter and a range of convenience items including a wide choice of magazines.
FOODMART's emphasis is on high quality food items that will exceed customer expectations – providing a shopping experience with a difference under one roof for the whole family. The supermarket prides itself in offering great value for money and catering for all budgets in line with its slogan, 'changing your shopping experience…'
Everybody agreed that this supermarket is of international standard. No longer has one to return from overseas trips with suitcases filled with their favourite goodies. From now on a trip to Eden Island is sufficient to have all the shopping you want under one roof. A true heaven for fun family shopping starts right here on Mahé as from tomorrow.
Contributed