Women parliamentarians host fun-filled day at President's Village
23-July-2013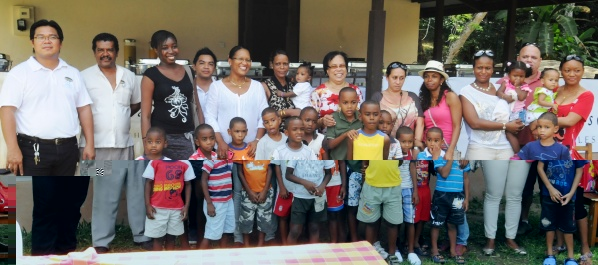 The committee of women parliamentarians in the National Assembly in partnership with Ephelia resort hosted the event at the village aimed at bringing added joy to the lives of these children.
Member of the National Assembly for the St Louis district, Herbert Houareau, was also present to lend a hand to his fellow colleagues.
Before meeting the children, the team headed by Joevana Charles, the elected member for the Roche Caiman district, held talks with village manager François Magloire.
Mr Magloire briefed them about the village and its residents, challenges encountered and life there in general.
There are 59 children living at the village located at Port Glaud and the youngest ones are aged 8 months old.
Mr Magloire said there are more boys than girls at the village and there is only one orphan in the group.
He added that the children live at the village until they turn 18 years old but with the help of the Seychelles Children's Foundation, they are closely monitored.
After the short meeting, the parliamentarians were given a tour of the village and then met the little ones who were not able to join the outdoor activities as they were sick.
The team then joined the other children who were eagerly waiting to meet them.
Together they planted several fruit trees before enjoying lunch sponsored by Ephelia resort in the garden.

The parliamentarians had the chance to interact with the children, know more about their lives and their dreams, and shared words of advice with them.
Before they left, the National Assembly team gave out small gifts, which will surely remind the children of the fun day they had in the company of the parliamentarians.