IDC rewards winners
26-July-2013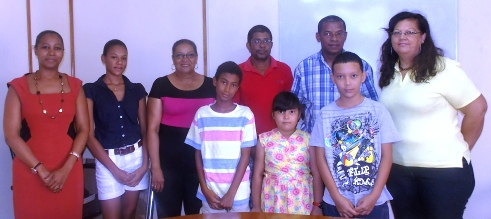 The company recorded an amazing turn out and participation in the quiz, as people were eager and really excited to win a trip to either Desroches or Silhouette or receiving a copy of the book Zil Elwannyen Sesel.
Participants had to pick a question and those who got the correct answer, their names went into a draw which took place on the last day of the show.
Recently, IDC organised a short ceremony at its headquarters to reward the lucky winners.
The first prize of a weekend to Desroches went to Rhod Moustache who was really happy and excited to have won such a prize. Mr Moustache is looking forward to undertake the trip very soon.
The second and third prizes of a weekend on Silhouette went to Hillary Lowseck and Rolly Cafrine, respectively.
François Pierre, Dylan Lowseck, Marie-France Bristol and Macda Zelia each won a Zil Elwannyen Sesel book.
During the ceremony, the winners thanked IDC for the prizes and especially for the opportunity of getting the privilege of discovering other islands in the Seychelles archipelago.