Next Step and Friends to host charity show in aid of colleague Patrick Octave
27-July-2013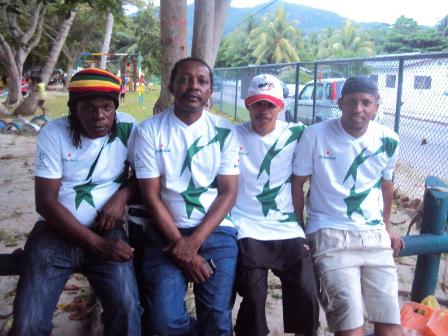 Next Step members (photo) will team up with other artists for the charity show
Octave, who is recovering from two operations in Mauritius to remove a brain tumor, lives at the North East Point Hospital.

The four-hour show will start at 3pm and will feature artists like François Larue, Dave Pool, Jude Ally, Alkerta, Fastidious, Mervin Camille, Players 2, Dreddy, Jazzlaton, Beau Vallon secondary school, Tingakela Group, Gilbert Freminot, Essay Quatre, Bettina, Champion, Philip Toussaint, Mercenary, Brian Matombé and others.
"We would like to thank all the singers who have agreed to perform for free. It's nice to see all of us come together to support our brothers and sisters who are in need. Patrick will also be there on that day and there will be surprises at the end of the show," said Next Step spokesperson Sonny Dogley.
"Patrick has performed in a lot for charity shows to help people who are in need. Now he needs our support. We have sent letters to many companies because we need their support to cover the cost of poster and ticket printing, transport, snacks and drinks for all the singers. The companies that support the cause will be given free publicity on a banner to be unveiled at the show," he added.
Proceeds from the show will go to Patrick Octave and Andre Cedras, who is also a singer living at the North East Point hospital.
Ticket for the show will cost R100 and will go on sale as from Monday July 29 with members of the Next Step group and at the National Arts Council or call 2541516.