Round Table Seychelles hosts picnic for orphans
31-July-2013
The picnic is part of the organisation's community projects and Miss Seychelles Agnes Gerry and her second princess Isha Hoareau were also present for the day.
Those who were passing by the beach would have thought that it was the Regatta, with Round Table Seychelles tents and flags on display.
There were in total 97 children from the different orphanages.
Speaking to Seychelles Nation, Vincent Lee Kim Koon, chairperson of Round Table Seychelles No. 2 (SRT2), said they decided to organise this picnic in July as different organisations host different activities for the children.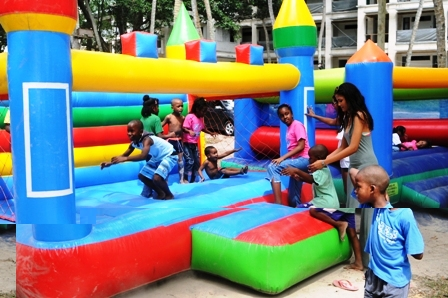 "As the sea at Beau Vallon is calm during the month of July we thought it would be perfect for such an activity," Mr Lee Kim Koon said.
The activity has cost the SRT2 approximately R30,000.
Mr Lee Kim Koon took the opportunity to thank the other organisations that helped in organising the picnic. He also thanked the volunteers who are always willing to help.
The children were able to impersonate different characters as they got their face painted in the face painting activity. They laughed with joy as they enjoyed themselves on the bouncy castle. They even played different kinds of game such as the traditional lapi lapon, beach football with Miss Seychelles Agnes Gerry and her second princess Isha Hoareau.
After a day full of fun the children returned to their respective homes with their hands full after receiving presents from Miss Gerry and Miss Hoareau.
The accompanying photos show the children having fun in the different activities organised for them on the day.