Order of Malta donates to SNYC
12-August-2017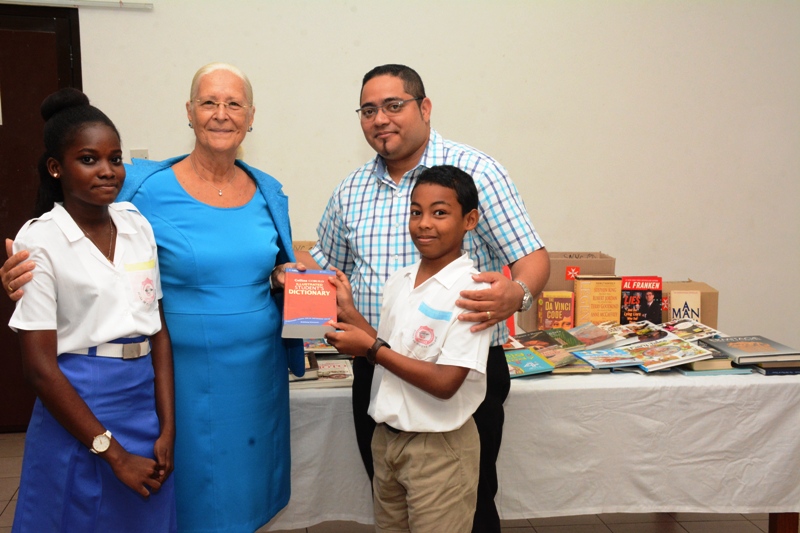 The Seychelles National Youth Council has received a donation of books which will benefit
students who enjoy a good reading or in quest of information.
The books were handed over by the Ministre Conseiller of the Order of Malta in the Republic of Seychelles Alexandra Azaïs to the chief executive (CEO) of the Seychelles National Youth Council (SNYC) Alvin Laurence, in a small ceremony yesterday morning at the National Youth Centre, English River.
Also present at the donation were the director of support and counsellor at SNYC, students from the English River secondary school and SNYC staff.
The books have been given to the embassy of the Order by the spouse of former Italian Consul Franco Esposito and consist of educational and art books which formed part of the library of the late Mr Esposito.
She said it is a great pleasure to remember him on this occasion and pay tribute to his life spent for the Seychelles with admirable dedication.
After donating the books Mrs Azaïs stated that reading is the most essential activity for young people.
"Reading is one of the most important activities for young people, enriching their knowledge and opening their mind in a healthy and positive way. Contributing to SNYC will enable the council to enlarge its library and benefit the youth," she said.
Thanking Mrs Azaïs for such donation, Mr Laurence stated that the books will benefit the young students and allow them to better seek for information.
"The books will allow the students to build their own vocabulary and improve their understanding when they listen, which is vital. Reading is fun, with the large variety of genres, there's something for everyone," he said.