|
Seychelles – UNESCO - 08.10.2007
Ambassador Claude Morel accredited

Seychelles' Ambassador in Paris, Mr Claude Morel, has presented his Letters of Credentials from President James Michel to the director general of UNESCO, Mr Koïchiro Matsuura, accrediting him as Permanent Delegate to the UN organisation.


According to a communique from the Ministry of Foreign Affairs, the meeting was an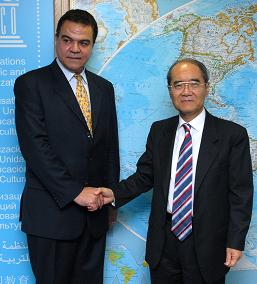 occasion to review cooperation between Seychelles and UNESCO (United Nations Educational, Scientific and Cultural Organisation).
Ambassador Morel informed Mr Matsuura of activities planned to commemorate the 25th anniversary of the adoption of Aldabra as World Heritage Site next month.
He briefed the director general on the establishment of the Seychelles University Foundation. UNESCO has agreed to explore possibilities of assistance and partnerships with the new Seychelles initiative.
The SIDS (Small Islands Developing States) agenda was also part of the discussion. Ambassador Morel will join other SIDS colleagues at UNESCO in ensuring adequate follow-up and implementation of decisions taken at the Mauritius International Meeting in January 2005.
Ambassador Morel expressed satisfaction on behalf of the Seychelles Government with the on-going Participation Programmes funded by UNESCO. He was informed that 3 projects amounting to US $53,000 had just received approval for funding. These are:
• Capacity building for mixed ability teaching
• Provision of ICT equipment for research and publishing for the promotion of Creole
• Analytical Capacity for Water Testing.
Ambassador Morel subsequently met with the President of the 33rd General Conference of UNESCO, Ambassador Musa Bin Jaafar Bin Hassan of Oman, for discussion on the challenges on the way forward for the organisation.