|
Gill's Seychelles Freedom Party also for poll boycott - 27.08.2011

The newly registered Seychelles Freedom Party (SFP) led by businessman Christopher Gill was launched at a gathering of supporters, also attended by the press, at Docklands Friday afternoon.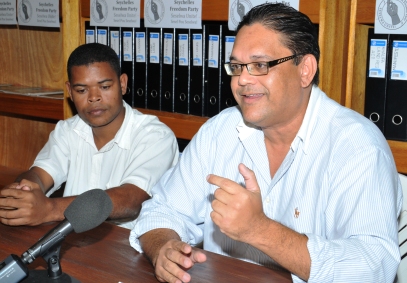 Mr Gill said until some important issues "conducive to democracy and a level playing field are addressed" he is always for a boycott of elections.
He said he had pushed for a boycott of the May 21 presidential election, but other opposition candidates had insisted that they take part and are now complaining, after poor results.
Mr Gill said he had not chosen to register his party prior to the upcoming parliamentary election, which he said had come suddenly after its own dissolution. He recalled that he had tried unsuccessfully to register the party under another name.
Mr Gill said de-linking of the state and governing party, rights of Seychellois residing abroad to vote and legislation on electoral funding are issues which the Commonwealth and other foreign observer groups had always said must be addressed.
He said the Seychelles National Party (SNP) was equally to blame as the ruling party, as during its years in the Assembly, it appeared more interested in salary hikes, gratuities and pension for the MNAs, oblivious of everything else.
Mr Gill said he hopes that the Constitutional Court will reconvene the Assembly to give it a fresh opportunity "to do what must be done".