Ministerial delegation visits small hotel on La Digue
07-December-2017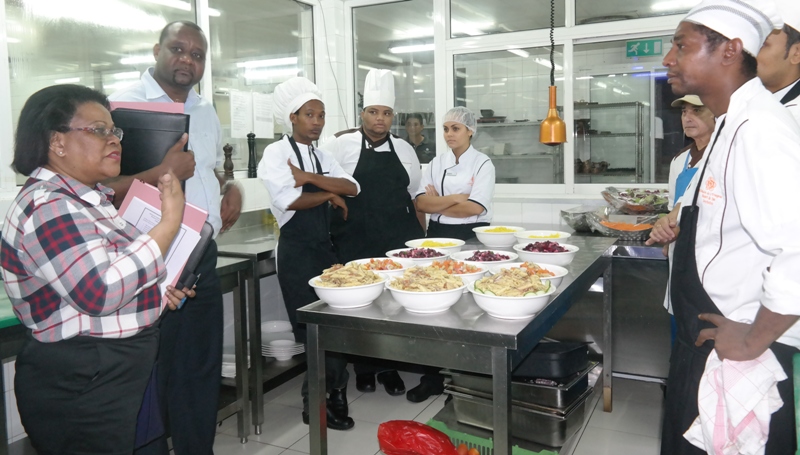 The Minister for Employment, Immigration and Civil Status Myriam Telemaque visited the Le Domaine De L'Orangeraie Resort and Spa at Anse Severe, La Digue on Friday November 24, 2017.
The minister was accompanied on the visit by a delegation of senior officers of the ministry.
The visit - which is part of the minister's ongoing programme to boost partnership with the private sector and provide support to the companies as well as their employees - included a tour of the premises which comprised areas such as the kitchen, administrative offices, stores, restaurants, laundry section and other areas of the property.
It was also an opportunity for her to interact with the employees at their work station.
In the course of the visit, the workers expressed excitement and appreciation for the visit.
The majority of the workers that were on shift at the time said they were happy to work for the resort despite certain shortcomings that they are hoping the minister would take up and have resolved on their behalf.
The concerns they raised were in relevance to, among others, information sharing between staff and management, their salary package, deduction on service charge, training and their general welfare.
The workers' concerns were taken up with the general manager of the resort, Eric Boulanger, and his management team.
The team was very receptive to suggestions that were proposed to them in order to bring about some eagerly awaited relief for the workers.
The meeting yielded a mutual agreement for the issues to be addressed by the hotel in the immediate, short and medium term.
A follow up visit by officers of the ministry will be conducted in three months' time to assess progress made.
In all, the visit permitted the delegation to have a good insight into the daily operations of the establishment, the concerns as well as the achievement of both employees and employers which were very enriching.
Of particular note is the fact that locals are being groomed to take over from non-Seychellois and that the resort has absorbed workers recently made redundant from another tourism establishment.
The hotel, however, has much work to do to improve on its industrial relations in general.
The accompanying photos show the minister and her team interacting with staff at the hotel.