Up Close with Photographer and Conservation and Digital Technician Joe Laurence.
11-September-2018
Who is Joe Laurence? Tell us a bit about your background.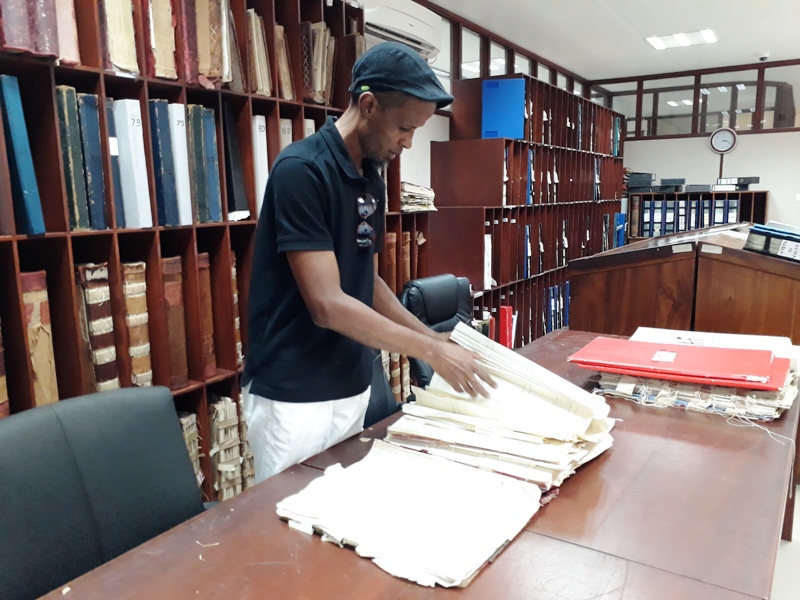 I come from a family of eleven but sadly, two of my siblings have passed away so there are nine of us left. I would categorize my background and childhood as having a profound artistic influence. Growing up, my late father was both a mason and a cook which in my perspective are professions that both contain and require an element of art. For instance in cooking, you need to blend several components together for them to impart the maximum flavour.
Two of my brothers are also artistic and talented in visual arts, more specifically fine art. One of them attended the School of Art and Design as it was known as the time and he is extremely talented whereas my other brother who opted for humanities and science is especially talented in painting. I was inspired by all three of them, my father and my brothers.
In school, when I was in P9 at the time, now Secondary 3, I sat exams to determine my chosen fields of study at the National Youth Service (NYS). I followed courses in science and mathematics at NYS but before I finished, I was required to make a choice as to my chosen field of profession. That was the instance I decided to pursue art seriously, as opposed to academic subjects. I feel as though art is more suited to my personality and character.
Following NYS, I pursued further studies in art at the School of Art and Design. The choice I was faced with there was between graphics and fine art at foundation level. I felt more drawn towards fine art and opted for it. Subsequently, I enrolled at Seychelles Polytechnic. From then I stepped into the world of work.
What about your professional background?
 I remember my first job was at a printing company owned by Mr Alexi that was situated at St Claire. My job there was to assist in printing on t-shirts, banners and the likes. I then suggested that we introduce some graphical elements and incorporate them into the printing business.
During my time there, I also helped design greetings cards for different occasions. One Christmas, I designed a Christmas card featuring the Cathedral of Immaculate Conception and it was very well appreciated. In fact, it was featured on the front page of Seychelles Nation on a Saturday, something I count as an accomplishment. As a youth who had just stepped into the professional world, it was something I could be proud of and be confident about. My efforts, ideas and creativity were being appreciated.
After working there for a year, I decide I wanted to try something different so I applied for a job at the National Archives. It was still at La Bastille at the time and they had vacancies for a restoration technician and one of the requirements was they needed someone who has a background in art and design. I was successful in my application and was hired.
Two technicians were in charge at the time and I was answerable to them. They trained me and were especially satisfied with my performance because I was a hard worker determined to show them my potential so I was sent on a training course to Malaysia. The training was based around document recovery, restoration and preservation, with the addition of book binding and microfilm. Microfilm is a film bearing a photographic record on a reduced scale of printed or other graphic matter; it is closely related to photography. I learned a great deal through the course.
 Following the training, I came back home and was employed at the National Archives for over 20 years. During the years, I was promoted to supervisor and was in charge of a department and a small team of staff. A few years ago when the fungus issue arose, I proposed that the archives start digitizing their documents and records. It was a feasible solution to the fungus issue. So I was handed the responsibility of overseeing that section and training staff in the digitisation process. Innovation and keeping azure with the latest developments in my field is very important to me. I try to ensure to keep myself informed and that's where that idea originated.
That was also a pivotal point in my life where I decided to start my own digitization business. The idea was based on the solution to the problem being experienced at the national archives. Meanwhile, I was already practicing photography.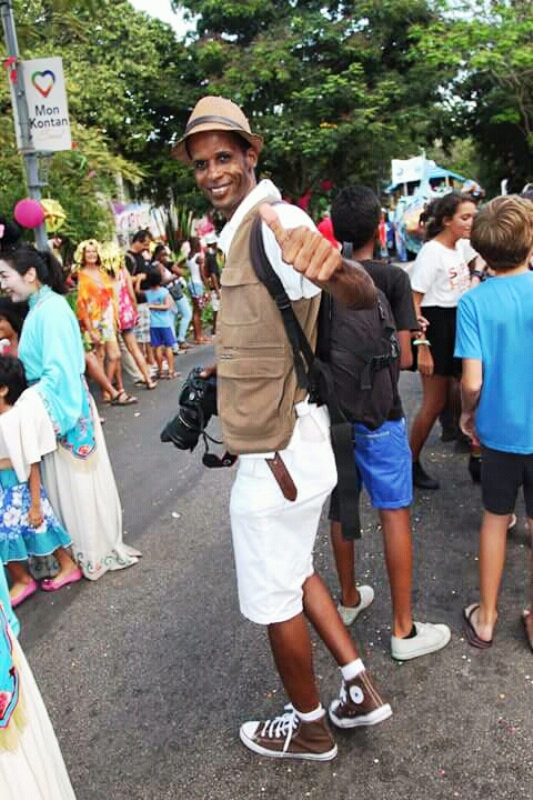 What inspired and drove you to pursue your own business?
At the National Archives I often scanned documents for clients. One day, a foreign gentleman required a document to be scanned and insisted that he wanted to see the whole process so I took him along with me. During the process, we started talking about photography as he had told me he is a photographer. We immediately clicked as I also had a passion for photography. The gentleman then told me that digitization and photography are interrelated and they complement each other since light is an important factor in both.
Another encounter that pushed me was when one of the external trainers, also a foreign gentleman, outsourced by the National Archives to train the local staff encouraged me to start my own business saying it is a prospective field. So, I can say, those two gentlemen encouraged me. I conducted my own research and consulted friends and family especially my mother who advised me to pursue it when the time is right.
What is digitization?
 If I'm completely honest, I conducted market research while I was employed at the National Archives. It confirmed that there was indeed a market for digitisation services so I launched my own business. I started to build up a reputation and a brand and the feedback I was getting was good. The government were also on board with the idea and have awarded me several contracts. So the digitization branch of my business came about to address the fungus issues and from my studies, I know that documents are easily damaged when not handled properly. In this digital world, we need to move fast and I suppose that inspired me to move towards digitization; the ease and convenience aspect.
The digitization process involves transforming documents into a digital format. I have digitized mostly historical records, documents which are unique, one of a kind. We also need to preserve and conserve such documents so they are scanned so can be organized into a digital database while we repair the physical copies.
 The first place where I digitised documents was SPTC followed by a private offshore company. I have also done so for SACOS, Civil Status and SFA.
Perhaps my biggest digitisation project was at Civil Status due to the sheer volume of records.  At this current time, at least 90 percent of the records at the Civil Status have already been scanned. Once the scanning process is completed, other processes will have to be carried out such as deacidification of the records there due to the degradation of the records. This involves removing acid from the records and restoring the paper's PH levels. This is necessary because the records kept at the Civil Status are national and historical records dating as far back as 1800. The documents will not have to be touched again.
From an artists' perspective, what is your favourite form or medium of art?
I would have to say photography is my favourite. I have profound appreciation for fine art but I'm more interested in photography. However, my knowledge and background in fine art influences my photography. If you can combine the art and science of photography and fine art together, you will get beautiful results. It is important to note that I do not use 'flash' when I'm taking my photographs and I do not edit or manipulate my images digitally. I prefer to experiment with different lenses and I place all my focus on the camera and I tell it what to shoot. What I mean is that the composition of the photograph is very important.
What inspires you in photography?
 I am inspired by our heritage and the various aspects of our culture that are slowly disappearing. Heritage encapsulates everything; sports, fashion, lifestyle, food and even portraits. Moreover, it is unique to us Seychellois. I sometimes wish I was a photographer a few decades ago when our culture was more vibrant with a more authentic lifestyle.
One of my photographs won the award for best photograph in the 'Mon Kontan Sesel' competition. I took the photograph when I was taking a walk around an island and I came across an elderly man sitting on the steps of an old house. You could tell the house had been standing a good few years from the pile of roofing sheets it had been covered with; several layers just piled on top of each other. The man's hair was completely grey and he was peeling a breadfruit while sat on the stone steps. The image depicts life in the time of our parents and grandparents; it is evidence of the past. I kept that photograph in my personal gallery which I do not expose to the public. What caught my attention was the house. I imagined how old it could have been and what it had witnessed. I found that fascinating. How many generations have lived there? How long has the house been there? Actually, the image was placed in the national expo and many tourists wanted to buy it. It shows a side of life that they do not get to see.
When the competition was launched, I approached my partner and told her I was going to participate with that photograph. I was confident that I would win as I was sure nobody else would have a photograph depicting something so authentic. The size of the photograph was also an important factor of consideration as I wanted it to stand out from the rest and be an eye-catching piece. I received a call from the organizers of the competition who convinced a very reluctant me to attend the prize-giving ceremony and once I arrived, I saw my photograph on display among the winning photos. I consider that amongst my greatest achievements in terms of photography.
However, since that competition I have decided not to compete again but to rather save my photographs for an exhibition in the near future. My daughter has taken an interest in photography so I intend to teach her and she can participate in competitions if she wishes to.
Prior to the competition, I was approached by the Ministry of Employment for images to be used for the 'Mon Kontan Sesel' campaign. They were to be placed on buses and in public places. I selected a few that I thought was fitting for the campaign. I can safely say that the campaign was made up, at least 90 percent of my photographs. I also count that as one of my achievements.
Another moment of pride stems from an exhibition in which L'alliance Francaise invited me to display my pictures. The theme was 'kouler mon zil' and the competition comprised of photographers from countries in the region. I displayed a close-up shot of a florist cutting off a rose stem in the market. That was one of four pictures I displayed. Following the panels' decision, I was informed that I won third prize with that photograph. It was that moment that I realized I had potential and a good eye since I was up against international photographers.
Three more of my pictures were published in a magazine for the blue economy project under ex-President James Michel. I also take photographs for Seychelles News Agency which has given me a lot of exposure and visibility. Through that channel, I obtained contacts including journalists who work overseas so I take pictures for them when they require them.
In 2015, I was the official photographer for Miss Seychelles, Another World.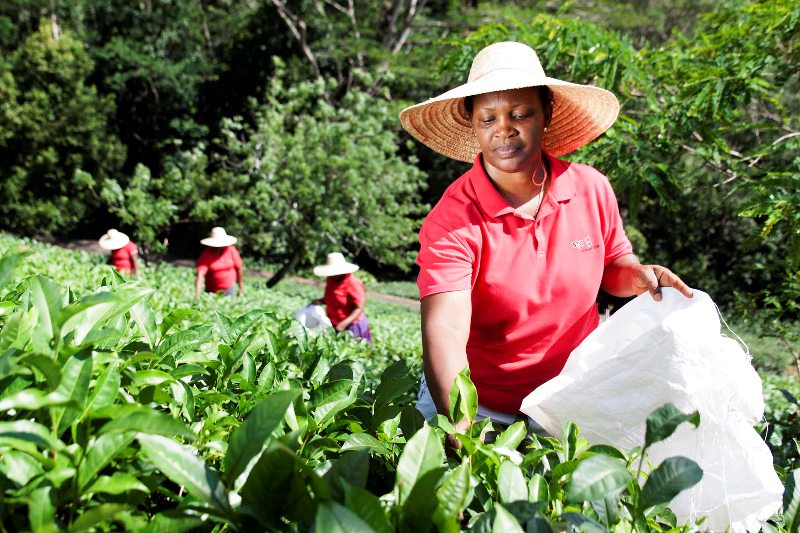 What can we expect from you in the future?
In the future, I will host an exhibition exploring various themes that I may not necessarily have explored in the past. I have received a lot of requests for a solo exhibition by people who have viewed my work before. I am planning several themes but they all relate to heritage in some way. Art and photography fans can expect photographs whose composition has been well thought out. A picture that tells a story and that evokes a response or emotion or a feeling of curiosity.
 What is your message to the youth who have an interest in visual arts?
Take time to learn all the aspects of visual arts. That knowledge is invaluable. In relation to photography, it is not about sophisticated equipment. A cheap camera can also take nice, beautiful images provided the photographer knows what to capture. It is about the personage behind the camera that matters.
What about those interested in paper conservation or the digitisation process?
I would urge the government and business owners to opt for digitisation. As afore-mentioned, it is convenient and makes records and documents more accessible. It could also prove extremely useful in situations where physical copies may be destroyed or tampered with for instance in a fire. Having the database could make the difference. And for the youth, I would encourage them to pursue it as it is a really interesting job or career choice. It is very fulfilling when you see what you have achieved especially when there are high volumes of damaged documents that you converted into a digital format. Not only does it facilitate the job for the staff at these establishments but future generations will be able to access them digitally as well as have the repaired documents and records available.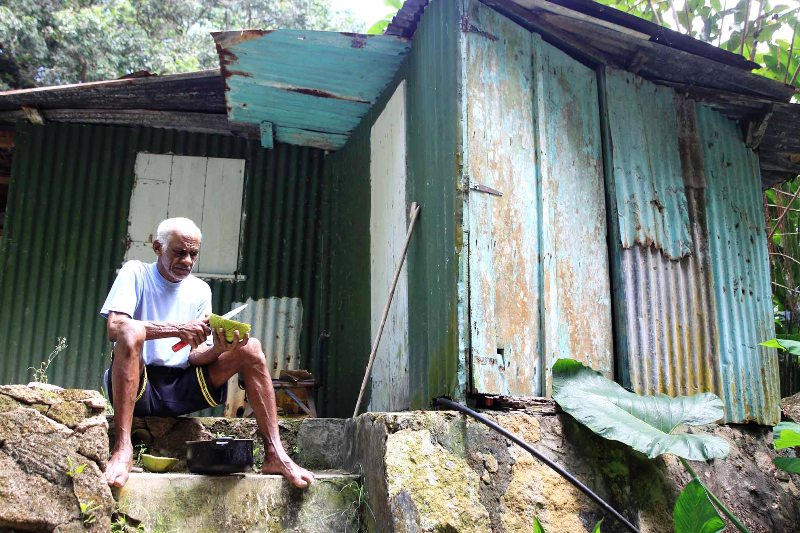 Laura Pillay