Football St Louis part company with coach Freminot
07-December-2017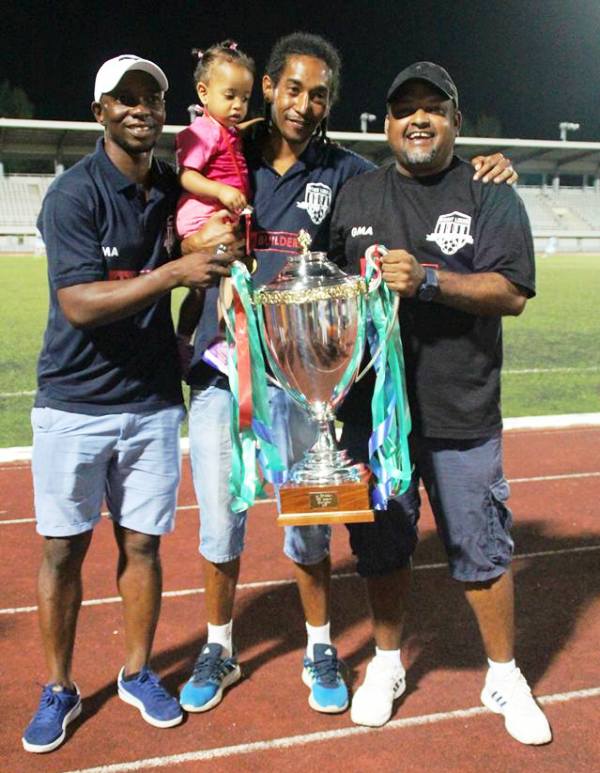 Double winning football club St Louis have parted company with their coaches after some irreparable differences with the management early this week.
In fact, coaches Nigel Freminot and Nigel Moustache resigned from their posts after a lengthy meeting with the club's management on Tuesday afternoon when they were informed that they would be relegated to assistant coaches and that Marc Mathiot would be taking over as he holds a licence A coaching badge and will take the team to the African club competition next season.
"We decided to resign with immediate effect from our posts as we felt the management was keen to get rid of us whatever happened in the different local competitions and even though we brought success to the team. This is sad as we feel all our good work has not been appreciated and the management lack gratitude for all the success we brought to this community after a 23-year trophy drought period," coach Freminot told Sports NATION.
In fact, the departure of coach Freminot had been making the rounds for a while in football circles despite his team winning the league and even after delivering the double, it was not enough to sway the management to think otherwise.
"We were informed by the management that as we did not hold a license A badge, we would not be permitted to lead the team in international competitions which we agree but we feel that our current technical advisor Ulric Mathiot could have stepped in to resolve this problem but it seems the management had already decided to push us aside and had other plans for the team and therefore we felt we had little choice but to leave. But we will go with our heads held high for what we have achieved for this football club and its endearing fans and we will forever be part of its history to bring the double to the club," added coach Freminot who is the overwhelming favourite to be named coach of the year.
For their part, a member of the St Louis management explained to Sports NATION their side of the story behind the parting of ways with their two coaches.
"We had offered both of them the chance to work under coach Marc Mathiot who would be head coach as he holds a license A which is required at the African club competition and we have also been advised by the local federation, but they both refused to do so and decided to leave. We have to think of the wellbeing of the club as it is a huge investment and we need a coach with the necessary qualification and coach Marc was ready to work with them but they were not ready to accept this arrangement. We had brought Ulric Mathiot as technical Advisor after the first round of the league when results were not going well for us but they did not enjoy a good working relationship," the St Louis management member explained to Sports NATION.
The management member added that the club is bigger than the individuals as they want to move this club to semi-professionalism with more discipline and they would like to thank them for services rendered to this club, but is adamant that it is time to move forward.
All this happening is not good for the image of St Louis who were just the toast of their fans with their triumph in two local competitions but now they will be divided in their opinion of what has happened with the sudden change of coach where Mathiot will return for his third stint as coach next season as they will aim to defend their two titles.
R. J-L.