Basketball: 3x3 African Young Lions Cup Seychelles teams return
07-December-2017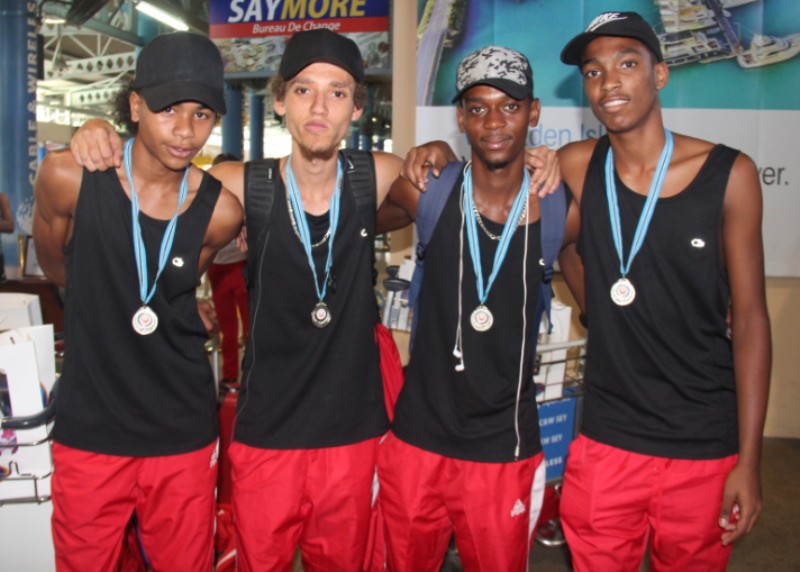 The male under-18 team who won the silver medal at the 3x3 African Young Lions Cup in Botswana returned home yesterday afternoon along with the female team.
Met by Seychelles Basketball Federation (SBF) chairman Terry Celeste and other members of the federation outside the Seychelles International Airport, the players were presented with bouquets of flowers.
Their parents were also present to welcome them.
Comprising Khris Bouchereau, Stan Jean, Hensley Bristol and Beejay Bertin, the male under-18 team are the runners-up of the competition after losing 14-17 to Zimbabwe in the final last Sunday.
The female under-18 team consisting of Christelle Cécile, Michelle Ah-Kong, Claudia Marie and Cheryl Marie made it up to the quarterfinals and lost 3-8 to Namibia.
Captain Stan Jean said the tournament was easy but lost due to a technical error towards the end of the game.
"If we take part in another competition now, I am sure will finish first. Our confidence is very high, we will be able to do it," said a determined Jean.
"A clean lay-up was called out as offensive foul by the referees and this is how we lost," he added.
Teammate Bouchereau said "we have a stronger team than the other teams" and added that "the referees' decision cost us the game".
Female team captain Sheryl Marie said the competition was of a very high level and "we enjoyed ourselves and we did try our best to win, but we lost and we accepted the result".
She added that the other teams were stronger and they had tall players on their teams and it was tough for us to play defense on them.
Chairman Celeste said he was very satisfied with the Seychelles teams' performance on their first involvement in the competition.
"It shows the devotion of our coaches who are working with the young players to develop their abilities so that they can now compete at African level. It shows we have a bright future ahead in basketball," said chairman Celeste.
3x3 basketball is played on half court with all inside shots including free throws and lay-ups are worth one point. All shots taken outside the arc are worth two points. The game is played over 10 minutes with stoppage time for dead balls and free throws. A team have 12 seconds to attempt a basket.
P.J.