Shaquille O'Neal holidays on La Digue
03-January-2018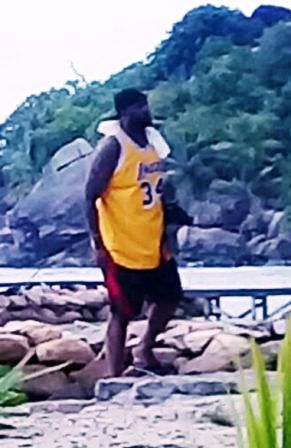 Some people could have bumped into him over the New Year holiday, but maybe some did not know who he is.
One of the greatest professional basketballers of all time, Shaquille O'Neal was spotted on La Digue during the weekend.
O'Neal was seen sporting an LA Lakers jersey with the number 34 on.
In fact, former professional O'Neal wore the number 34 jersey with the Los Angeles Lakers in the American National Basketball Association (NBA).
Born on March 6, 1972, the former 7ft 1in (2.16m) centre was drafted with the first overall pick by the Orlando Magic in the 1992 NBA draft and in 1996, as a free agent, he joined the Los Angeles Lakers, one of the NBA's most famous teams. He led them to NBA championships in 2000, 2001 and 2002 and was named the Most Valuable Player (MVP) of the finals each time.
The Lakers retired his number 34 jersey to the rafters, making him the eighth player in franchise history to have that honour.
O'Neal won a fourth NBA championship with the Miami Heat in 2006 in his 19-year NBA career.
A 15-time All Star, O'Neal amassed 28,596 points, which ranks him eighth all-time in the NBA.
He also played for the United States of America (USA), representing his country for the first time at the Fiba Basketball World Cup in Toronto in 1994 and they won with him averaging 18 points and 8.5 rebounds in just over 17 minutes per game.
He then helped the United States capture the gold medal at the Olympic Games in Atlanta, USA.
A man mountain who dominated on the hardwood in both international basketball and the NBA, O'Neal was honoured with induction to the Fiba Hall of Fame in 2017.