Cyclists to start preparation early this year
03-January-2018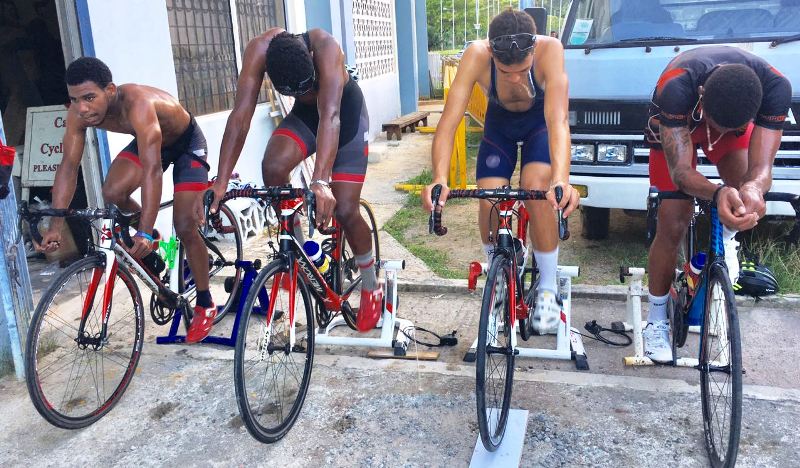 The Seychelles national cycling team will resume training early January in preparation for international competitions.
Apart from training locally, some cyclists will go on training camp either in Madagascar or in Sri Lanka before the start of local competitions in late March.
A pre-selection team for the training camp have already been drawn up but the SCA will announce the final selection later. The selection has been made by SCA's senior manager Kevin Marie and youth manager Samuel Rignace.
In a telephone conversation, Seychelles Cycling Association (SCA) chairman and national team coach Lucas Georges gave Sports NATION an update of the team's preparation for the 2018 season up to the Indian Ocean Island Games in Mauritius in 2019.
Two cyclists will form part of a new international cycling team to be formed this year. Associated with the formation of the new international team, chairman Lucas said details will be made available at the appropriate time during the year.
This year the SCA will take part in the African Championship, the World Championship and other international races. Chairman Lucas said they will also compete in a very important tour in Madagascar, a pro-tour organised by Société Tour de France.
The SCA also hopes to compete with more than one athlete at the 2018 World Championship in Austria from September 22-30.
Chairman Georges has described the 2017 cycling season as "satisfactory but very challenging" as SCA managed to complete 39 local races and took part in the Road African Championship, Track African Championship, Tour of Mauritius, Road World Championship, Track World Championship and other classic races in South Africa, France and Switzerland.
"Cycling is a very expensive sport to run as all logistics associated with it cost a lot of money and it's getting very difficult to get sponsorships. We appreciate what we get from the government but it is very little to run the sport," said Mr Lucas.
"It is getting very difficult to organise races on our roads. Traffic has become very heavy, roads are constantly being dug and there are new diversions every now and then. These changes affect the course and results of races. We have to make a lot of feasibility studies before races along with the amount of time spent re-measuring the affected routes in order to rectify broken records," said Mr Lucas.
He also said the association is having trouble to get volunteers to help during races.
"Those who come, we have to provide them with fuel and pay them for the use of their own transport in case of breakdown. Things are not like before and this is why we have to work hard to look for more sponsorship which is becoming very difficult to get," he said.
Mr Georges said the association is very pleased with the support and praises it receives from the public, especially on the social media where it has attracted thousands of local and European followers but especially in Africa where the followers are overwhelming.
"Cycling in Seychelles is being closely monitored worldwide in terms of our athletes and results as we are always making progress. Although we have a small group of cyclists, in terms of population percentage we have a higher percentage of cyclists than all other countries in the region and even in Europe," he added.
Mr Georges also noted that the SCA always explains to cyclists that their studies and jobs come first.
"This is because in the past, many cyclists have not been given promotion in their jobs as they are released from work too often to compete for Seychelles overseas. This is why we don't ask for work releases for training anymore and you will see us training late at night. We don't want to stop athletes from being promoted in their work places if that is the case," Mr Georges said.
The association's best achievement in 2017 came in March when young cyclist Stephen Belle made history by becoming the first Seychellois rider to win a gold medal at an indoor track race. At the African Continental Track Cycling Championship in Durban, South Africa, the junior cyclist claimed gold in the 200m final junior men sprint race, beating a South African and an Algerian to second and third places.
Inside the Cyril Geoghehan Velodrome, Belle 17, also came third in the mixed team pursuit and in the 10km junior men scratch race to win two other bronze medals, finishing behind Moroccan Mohamed Medrazi and Rwandan Eric Jean Habinama.  In the same competition, the trio of Mario Ernesta, Xerxes Larue and Christopher Gerry took the men's senior sprint bronze medal.
Last year, chairman Georges was also elected as a member of the Union Cyclist International (UCI) management committee during the African Cycling Confederation congress.
Christopher Gerry is the 2017 best male cyclist and Stephen Belle is the best young rider.
As for Ahmad Arissol, named the best cyclist in 2014, 2015 and 2016, he received a six-month ban in March by the SCA's disciplinary committee.  
Chairman Georges thanked the government, the National Sports Council (NSC), the Seychelles Olympic and Commonwealth Games Association (Socga) and all partners for their continuous support and added that he is counting on their support again in 2018.
P. J.