Seychelles Basketball Federation (SBF) Cup-Men's best-of-three semifinals dribble off today
|21 September 2005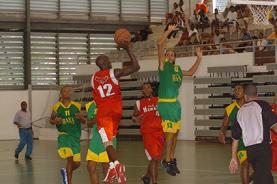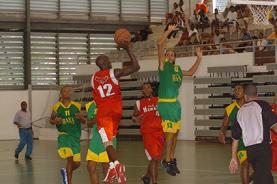 The first matches have been scheduled for today and Friday, starting at 5.15 p.m. at Victoria Gymnasium.
Defending champions Premium Cobras, who defeated Men division 1B winners MBU Rockers 76-39 in their first match, had captain James Beier (19 points) and power forward Dominic Pillay (21 points) combining for 40 points in their team's 79-67 win over PLS Dynamics in the quarterfinal.
Kenneth Domingue got 19 points, including three 3-pointers, Hendricks 13 points and Jean-Paul Desaubin 11 points in PLS Dynamics' defeat.
To move to the next round of the competition, Cascade Bullets dominated all four quarters for an 83-65 win against Angels who were paced by captain-of-the-day Evans Hollanda with 20 points.
Coached by Gregoire Scholastique, the Bullets had four players – skipper Biko Biong (22 points), Ronny Micock (16), Ronny Julienne (14) and playmaker Kenneth Sophie (13) – in double digits.
Aiming for a League and Cup double after dethroning Premium Cobras as Men division 1A champions, PLS Hawks smelled defeat against SMB Razorback but were able to hold on for a close 87-84 win.
After winning the first quarter 26-12, SMB Razorback tied PLS Hawks 24-24 in the second and trailed by 14 points at half-time. Coach Pascal Fostel's team came out roaring in the second period winning the third and fourth quarters 24-15 and 24-22 respectively.
Missing shooting guard Jefferson Nganga, PLS Hawks were hurt by former player Jean-Paul Camille who banked in a game-high 33 points, including five 3-pointers – four in a row in the fourth quarter.
Playmaker Christopher Camille and captain Alex Baron added 14 points each.
As for PLS Hawks, they were led in scoring by Ugandan all-rounder Stephen Omony with 28 points. Their other three players in double figures were captain Jim Domingue (18), Rodney Lozé (11) and Bernard Bristol (11).
Baya had no difficulty thumping a depleted Beau Vallon Heat 107-32. The scores at the end of each of the four quarters were as follows: 19-8, 29-12, 25-8 34-4.
Baya's coach Michel Malbrook rotated his line-up in the match and Luciano Moumou finished with a game-leading 21 points. Robert Léon added 20, Nigerian Ugoh 16 and skipper Dave Roseline 14.
Brian Moustache netted half of Beau Vallon Heat's 32 points before fouling out.
The first teams to win two games in the best-of-three semifinals will progress to the best-of-three final starting on Sunday October 2 at the Palais des Sports.
What the coaches said ahead of the semifinal match-ups
Steve Hoareau, Premium Cobras' coach – "We cannot afford to lose a match against Cascade Bullets as we will have to play three matches in as many days, which is going to be tough on my players. After watching PLS Hawks come close to a defeat against SMB Razorback last weekend, my players are aware of the danger of giving the opponents room to manoeuvre and come back into the match."
Gregoire Scholastique, Cascade Bullets' coach – "My players will have to stay concentrated and play tough basketball against Premium Cobras to at least win a match."
Tony Juliette, PLS Hawks' coach – "We will be all out to win the series in two matches. But we have to take all the matches seriously because every match is like a final in knockout competitions."
Michel Malbrook, Baya's coach – "We know that PLS Hawks will be coming for a win but Baya are determined to show that they are a force to be reckoned with in basketball here. My players have been showing more determination in their play lately."
Statistics this season
PLS Hawks beat Baya 93-64 and 81-75 in the Men division 1A league
Premium Cobras beat Cascade Bullets 84-57 and 71-40 in the Men division 1A league