Football: Goal Project 2-Seychelles' football house inaugurated
|16 February 2006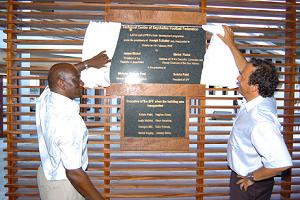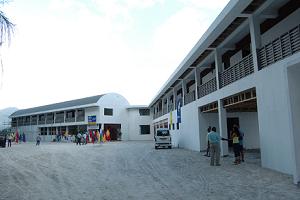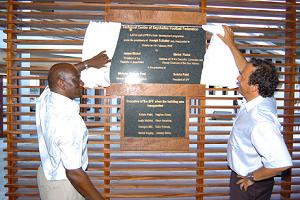 VP Belmont was deputising for President James Michel who is on overseas mission. It must be noted that President Michel is the patron of football in Seychelles.
Speaking to friends of Seychelles football, SFF boss Suketu Patel described the inauguration of the technical centre as an "historic moment in Seychelles football."
The fact that this is the only time former French midfield superstar Platini can come to Seychelles and because Mr Patel had personally requested that he be given the honour to open the Seychelles football house, the building has been inaugurated albeit 80% complete.
Work on the technical centre, the second phase of the Fifa Goal Project, started in August last year and according to Mr Patel, it will be completed in a few weeks' time, almost four months ahead of schedule.
"The project, Mr Patel said, is a testimony to the co-operation which exists between the Seychelles government, the Fédération internationale de football association (Fifa) and the SFF. A fine example of what can be achieved through unity."
The project has cost R7 million and all expenses fall within the planned budget, added Patel.
The different contributions have come from the Seychelles government to the extent of R2.975 million and this includes the land the building has been built on, from Fifa R2.2 million (US$400,000) and the SFF R1.825 million.
Mr Patel added that the Seychelles government's contribution of R2.975 million answers the question as to what is to be done with the R2 million given to the SFF and announced by President Michel in his 2006 budget address.
He noted that it was most unusual for national associations to contribute such a large amount of money to Fifa Goal Projects and for this he thanked members of SFF's executive committees of past and present for agreeing with him to save US$62,500 anually to undertake a major project for the long-term development of football here.
The technical centre is the SFF's Goal Project 2 and it will house the local football body's new headquarters, offices, a technical and residential centre with a state-of-the-art 80-seat auditorium, 20 self-contained bedrooms, two massage rooms, changing rooms and a restaurant which will cater for 60 people.
The facilities will be used by the country's different national teams, teams from Praslin and La Digue, foreign teams and even other local sporting federations and associations.
It was designed by Alex Ellenberger of Locus Architecture and constructed by Vijay Construction. The building covers an area of approximately 1,800 square metres and has been built adjacent to the existing astro-turf pitches.
It is worth noting that Goal Project I, consisting of the construction of a full-size and two futsal size floodlit astro-turf pitches at Roche Caïman, were handed over to the SFF in 2003.
SFF boss Patel also thanked Platini for his idea of putting up Goal Projects to bridge the gap between big and small football nations.
He wished Platini luck, saying:
"Your first visit here was in 1975 with France Espoir as you were starting your career as a footballer. See to what height you reached as a player, three-time European footballer of the year (Ballon d'Or) in 1983, 1984 and 1985. You now stand in a similar position as you start your career as major administrator of football. Our prayers go with you that as president of UEFA (Union of European Football Associations) and one day Fifa you achieve the same success as you did as a player."
Mr Patel also thanked Fifa for being a catalyst in making the project a reality.
After having exchanged gifts, Fifa vice-president Platini and his delegation comprising Jean-Michel Benezet, a Fifa development officer; and Pascal Toress, Fifa's head of development management team, VP Belmont, Minister Pool, SFF Patel and all the guests toured the technical centre and joined in a cocktail.
More details about Minister Pool's and Platini's speeches at the ceremony will feature in tomorrow's edition.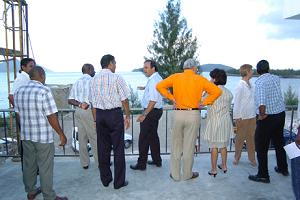 G. G.