354 graduate in technology-Ahmadou Sylla scoops President's Cup
|01 April 2006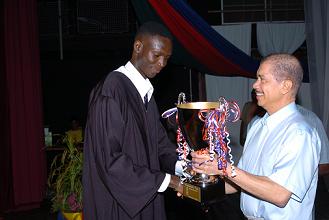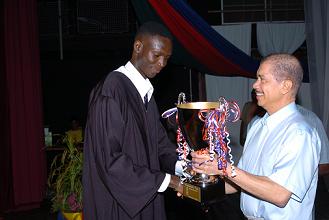 Ahmadou Sylla receives the President's Cup from President Michel
He also got cash prizes from Vice-President Joseph Belmont, and Designated Minister, Danny Faure, who is also the Minister for Education and Youth.
In a ceremony attended also by parents and lecturers among other guests, 16 other graduates who performed best during their training also received awards.
Ricchi Savy got the best performer's award in Electrical Installation, which was sponsored by Shreeji Construction Pty Ltd.
Ronny Payet was the best performer in Refrigeration and Air-Conditioning and was awarded by Unique Refrigeration, as Mario Banane took home the award for Masonry, which was sponsored by Monthy Construction.
The best performer in Painting and Decorating was Alexandra De Gonzague, who was awarded by Permakot Paint as a representative of Shreeji Construction presented Elvis Vidot with his award for emerging as the best performer in Carpentry and Joinery.
Dobi Laundry Services gave Clive Stephen the best performer's award in Plumbing as graduate Collin Barbe of the Diploma in Construction course got his award from Allied Builders.
The Best Outstanding Performer in certificate courses was former Masonry student Ron Malvina, who got his award for the achievement from Roucou Construction.
From the engineering programme area, Jean-Claude Jason Thelermont was awarded as the Best Performer in Certificate in Electronics Servicing by Cable and Wireless (Seychelles) Ltd.
Steven Mangroo was the Best Performer in Certificate in Mechanical Engineering and was awarded by the Public Utilities Corporation.
The Best Performer in Certificate in Motor Vehicle Mechanics was Ronny Faruck Nicette who got his award from Dinesh Auto Parts (Pty) Ltd.
The Best Performer in Diploma in Electrical and Electronics Engineering was James Paul Jean-Louis, who was awarded by Airtel Telecommunication Company.
Butlen Camille was the Best Performer in Diploma in Mechanical & Electrical Engineering and he was awarded by Seychelles Breweries Limited.
The Best Performer in Diploma in Motor Vehicle Engineering was Norris Kevin Legaie who was awarded by Seychelles Public Transport Corporation.
The Outstanding Performer in Diploma Courses was Butlen Camille, who got two prizes from Qatar Airways and Intelvision.
Camille also emerged as the Best Performer in City and Guilds examinations and got his award for this from the Indian Ocean Tuna company.
SIT officials described Sylla, winner of the President's Cup, as very apt academically, but was also very respectful to his lecturers and got on well with his peers.
"He obtained a distinction and four credits in the City and Guilds examinations for diploma subjects and has a very positive attitude," a lecturer told Nation after the ceremony.
He said that besides being a class representative, Sylla was also captain of a basketball team which won the inter-programme area basketball cup at the polytechnic sports day last year.
Asked why there was so much cheering when he was announced as this year's recipient of the President's Cup, Sylla said that he and his colleagues all acted as one, and even if it had been any of his other peers who got it, they would have welcomed his or her victory in a similar manner.
He said the conquest was a surprise, but that he was delighted that his dedication had been recognised and rewarded thus.
SIT director Jean Rassool said that the new SIT has evolved from the merging of Industrial Training College and the technical studies section of the Seychelles Polytechnic in August 2005.
"The ITC and polytechnic experiences have enabled the continuity for most students to do well on their courses," he said, noting that SIT is now the largest post secondary institution in the country offering a range of full-time and part-time courses for the engineering and construction industries.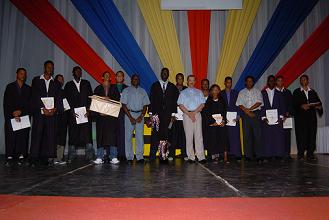 The best performers in a souvenir photograph with President Michel, VP Belmont and Minister Faure