Boeing praises local airline
|08 May 2006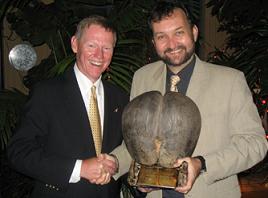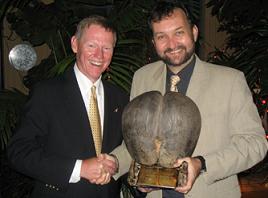 He also commended the national airline as being the first in making maximum utilisation of its current Boeing fleet with a record of 5,500 flying hours annually.
Mr Mulally was speaking in the presence of Air Seychelles chairman and chief executive Captain David Savy at a ceremony held in the Kenyan capital, Nairobi, on Thursday May 4 (evening) to celebrate the selection of the B787 Dreamliners by Air Seychelles' and Kenya Airways.
Also present were Kenya Airway's chairman, Evanson Mwaniki and group managing director & CEO Titus Naikuni.
Kenya Airways is scheduled to receive its first two 787 Dreamliners in 2010 and the remaining four on order in 2011.
Boeing's president and CEO spoke of Air Seychelles and Kenya Airways as being amongst the first airlines within the African continent to place orders for the new aircraft.
"Our new 787 Dreamliners will offer both Air Seychelles and Kenya Airways the chance to reach further across the globe in welcoming visitors to 'Experience Africa' and to enjoy the beauty of the Seychelles islands", Mr Mulally said.
He added that Boeing was proud to have an overwhelming majority of African carriers flying Boeing airplanes.
"We understand that there is much more to our success here than Boeing building the world's most efficient and reliable airplanes. We are committed to work together with our customers to help them to be successful," the Boeing president added.
The 787 Dreamliner is the primary choice of African airlines that are in the process of renewing their fleets after having been selected in every sales campaign in the region where it has been offered competitively.
Thanking the Boeing president for the recognition given to Air Seychelles choice in selecting the 787 Dreamliner, Captain Savy said: "We were simply amazed by what Boeing has done with the B787.
The unmatched operational performance aside much thought and consideration has gone into the development of this airplane. It is clear that Boeing has truly responded to input from all its constituents."
Captain Savy reviewed the long-standing relations between Boeing and Air Seychelles which dates back 20 years and involved the acquisition of B707s, B757s, B767-200, B767-300, B737-700 and the B787-800 in 2010.
He also highlighted the excellent ties between Kenya Airways and Air Seychelles' which enhanced regional aviation cooperation and described the Kenya national airline as a long lasting friend of Seychelles.
Captain Savy singled out Kenya Airways as a star of Africa and that together with Air Seychelles, were both amongst some six viable and profitable transcontinental airlines within the sub-Saharan and African region.
"We have the duty and responsibility to lead the way, so let us celebrate Africa's successes, let us celebrate Boeing's, Kenya Airways' and Air Seychelles' successes which also coincides with our national theme "Celebrate Seychelles" marking our island's 30th independence anniversary celebrations this year," Captain Savy said.
Thursday night's ceremony was attended by senior Boeing sales, marketing and communications officials, Kenya Airways board members and top management, and officials from the aviation and airport authorities of Kenya.
The ceremony also coincided with the launch of the Kenya Airways' leadership centre, a project in which Boeing is investing to assist the airline in establishing a world class training facility in Nairobi as well as producing B787 trainers directly to Kenya Airways.
Talks between Captain Savy and MR Naikuni will focus on the possibility of accommodating Air Seychelles' engineering, flight deck and aircraft ground handling personnel to undergo training for the B787 in Nairobi.
The training facility will help both Kenya Airways and Air Seychelles' deliver exemplary service and will provide the necessary skill base as both airlines expand and modernise their fleet.
Air Seychelles' and Kenya Airways are also looking into ways of collaborating further into the commercial field , such as the joint air services between Air Seychelles' and Air Mauritius which has been a successful regional co-operation venture.