12th Fina World Swimming Championship-PBs for Shannon Austin and Julio Smith
|09 April 2007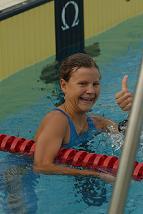 Mr Larfaoui's remark was a general one and Seychellois swimmers who participated in the championships can be proud that they have been a part of the successful event, but it is not sure if all of them can be proud of their results.
No one expected the local swimmers to win medals, let alone make the finals, but re-writing the Seychelles record books is the least they could have done.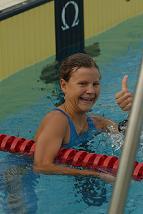 Shannon Austin was without doubt Seychelles' best performer at the championships with three personal best times in five events –100m freestyle (1:03.09 to finish 98th out of 128 swimmers), 200m freestyle (2:17.60 to finish 86th out of 106 swimmers) and 400m freestyle (4:44.96 to finish 57th out of 65 swimmers).
The only local swimmer to take part in more than two events, Shannon Austin clocked 30.17 seconds for 105th place out of 136 swimmers in the 50m freestyle and 33.98 seconds in the 50m butterfly to finish 85th out of 93 swimmers.
Through her father Mervyn Austin, the 14-year-old said she was very happy with her achievements.
Shannon's big sister Shrone went to Melbourne with the hope of meeting the Olympic Games qualifying time in at least one event, but the long distance specialist could not, finishing way behind her national records in the 400m freestyle (4:30.56 to finish 41st out of 65 swimmers), 800m freestyle (9:27.84 to finish 38th out of 49 swimmers) and 1,500m freestyle (17:48.07 to finish 21st out of 24 swimmers).
Shrone travelled to South Africa immediately after the championships and came to Seychelles for three days to visit her parents before heading back to South Africa yesterday morning to resume training.
According to her father, the 18-year-old was disappointed with how she performed.
"She said she had prepared well for the championships but she just did not perform well. This bad showing is already behind her and she is looking forward to the future," said Mervyn Austin.
Hawaii-based Sam Maitland, whose mother is a Seychellois - Doris Hissen – swam two events on her debut for Seychelles – 50m freestyle (29.84 seconds to finish 102nd out of 136 swimmers) and 100m freestyle (1:06.12 to finish 113th out of 128 swimmers).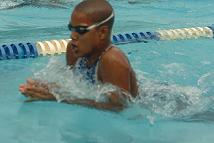 Among the three local male swimmers, Julio Smith was the only one able to clock a personal best in the 50m breaststroke with a time of 34.18 seconds to finish 105th out of 125 swimmers.
He was also ranked 105th, this time among 117 participants, in the 100m breaststroke, clocking 1:16.55.
Said to have suffered from a fever while in Melbourne, Steven Mangroo, who won All-Africa Games and Afro-Asian Games medals in 2003 in long distance freestyle swimming and is surprisingly lining up for short sprint distances, swam just one event – the 200m freestyle – and he clocked 2:00.76 to finish 90th out of 117 swimmers.
Butterfly specialist Bertrand Bristol took part in the 50m butterfly (28.08 seconds to finish 116th out of 149 swimmers) and 200m butterfly (2:14.84 to finish 61st out of 62 swimmers).
Speaking to Sports Nation about the performances of the swimmers, Seychelles Swimming Association (SSA) chairman Jean-Paul Adam, himself a former national team swimmer who won medals for Seychelles at the Indian Ocean Islands Games (IOIG) and the All-Africa Games, said that he is not too happy with the results.
"The results aren't what we were expecting. Except for Shannon and Julio who clocked PBs (personal best times), the others were way off their best results. We have to make an investigation to see what went wrong in Melbourne but still we are quite happy that the swimmers were able to swim in the best event worldwide even though the intensity of training was not reduced prior to their departure. The World Championships kind of formed part of our training for the forthcoming All-Africa Games in Algeria and the SSA will be sending a team to Mauritius in mid-April for a training camp and a friendly meet.
We will use the training camp to correct mistakes and get the team ready for the Algeria meeting," Adam told Sports Nation.
It is hoped that SSA chairman Adam keeps his words and reveal what really went wrong in Melbourne when a lot was expected from the local swimmers in terms of results.
G. G.