Nicole Chang-Leng becomes first Seychellois woman flight captain-All female Air Seychelles crew flight Thursday August 23
|22 August 2007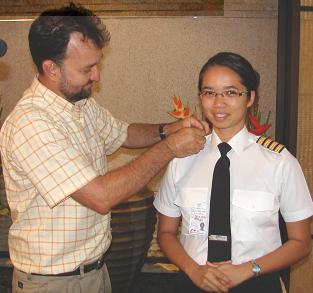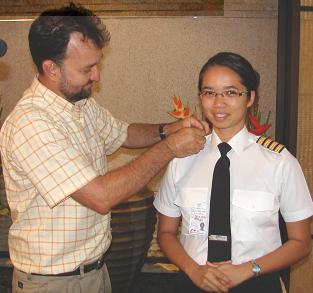 Thursday she will take command of an all-female flight crew when she operates her first flight as commander on the Seychelles-Mauritius-Seychelles route, becoming the very first Seychellois woman to captain the airline's B767 jets. She will be assisted by First Officer Lishad Peermohamed-Matharu.
The ceremony in which she received her epaulettes was held in the "Salon Vallée de Mai" CIP Lounge at the Seychelles International Airport. In attendance was Ms Chang Leng's young son, Harry, her parents Marie-Claire and Lewis Chang Leng as well as a selection of senior management staff from Air Seychelles.
Ms Chang Leng joined Air Seychelles Ltd in 1997 as a co-pilot on the Twin Otter following aviation training in South Africa. She gained command of the Islander a year later and eventually became a Twin Otter pilot in 1999.
In 2001, she was transferred to international flight operations when she joined as First Officer on the B767. She did her initial training and type rating in Miami, USA.
In 2002, she became a mum to Harry, took some leave and later resumed her duties.
Last year, Ms Chang Leng earned her Airline Transport Licence in Phoenix, USA. She was successful in her application for command training soon after and commenced her command training in Miami earlier this year.
The nine-member cabin crew complement on Thursday's special flight will be working under the supervision of Cabin Services Officer Brenda Esparon.
In a message addressed to the new captain, President James Michel offered his heartfelt congratulations on her becoming the first female Seychellois captain on Seychelles international fleet.
"Through your hard work, perseverance and tenacity, you have proven that the sky is the limit!" the President wrote.
He went on to say that over Chang Leng's 10 years of service so far, she has established herself as a role model for all young Seychellois, not only in terms of her career, but also as a parent.
"We are immensely proud of your achievement, which is a milestone for our country," the Head of State said.