Nursery new ecotourism draw for Anse Royale
|22 August 2008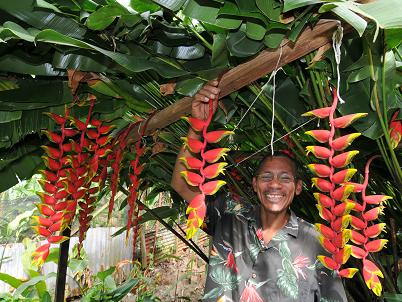 Kot ManYa Les Cannelles Nurseries – which will open officially on August 31 and to the public on September 3 – is the result of more than eight years of dedication to what started as a hobby then flourished into a small flower business and now a bigger family enterprise for Marc Marengo.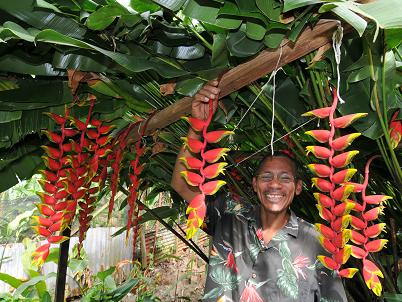 The nursery is expected to open on a shift basis with enough time in between for visitors to move in and out.
Entry to the nursery and gardens will cost R45 for Seychellois adults, R25 for children and tourists will pay €10 or US $15 each.
Tickets will be on sale from August 28 at the Ecotourism Society of Seychelles (TES) office on the first floor of Orion Mall in Victoria.
Visitors will also be given leaflets and other information on the garden when they buy their tickets, Mr Marengo said.
The retired diplomat has decided to open the nursery-cum-garden to the public "to share what has been my passion and hobby for many years".
Mr Marengo said he believes that after investing all the money collected from the sale of flowers and plants back into the project, and thus expanding it, the time has come to share his success "as it would be greedy to keep all this beauty to myself".

He said he will, at the same time, be contributing something to the ecotourism development of the district.
"Foreigners and local lovers of plants and flowers will have an added attraction to come to when they visit Anse Royale," he said.
Mr Marengo, who is also chairman of the Anse Royale ecotourism committee, said he is working with the Seychelles Tourism Board and tour operators to run guided bus trips to the garden.
The nursery and garden are spread over about a hectare in the hills at lower Les Cannelles, and Mr Marengo said the land was bequeathed to him and his siblings by his mother Man Ya, as she was affectionately known by many in the district.
With the help of family members, Mr Marengo has expanded the nursery and garden and today has more than 200 varieties of exotic plants and flowers, most of them from Hawaii. He ordered many of his plants through the internet and has made several good contacts over the years.
Among many rare plants like the blue jade flower and the Indonesian wax, the nursery boasts a large variety of orchids, a vast expanse of anthuriums and the popular alpinias.
Though he will be opening the nursery and gardens to the public, Mr Marengo will still supply flowers for his clients. While he will continue to develop and expand his project gradually, he is also growing more flowers and preparing more plants, which will be available for sale to visitors.
Mr Marengo said with the help of his sister he is converting her house into a snack bar, where visitors will be able to rest and enjoy a drink and refreshments after their visit.
He said he expects a good number of visitors once the garden opens.