Oldest citizen celebrates 105th birthday
|25 February 2009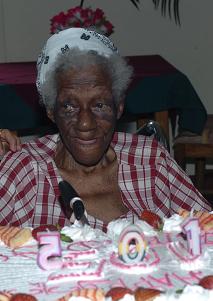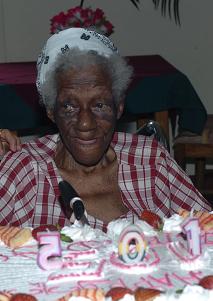 For this special occasion, the district and various sponsors organised a gathering for her at Bel Ombre administration office on Monday.
The ceremony was attended by family members, sponsors and members of the district's senior citizens' group.
As the oldest person in Bel Ombre, Mrs Uzice was awarded a medal and shield last December during the end-of-year party for senior citizens.

Monday's event included a special service conducted by Father Roger Decomarmond, songs and other presentations by the senior citizens' group and the district administrator, Pharisianne Lucas.
Various organisations and individuals in the district, including the community council and the youth club, contributed to the celebration.
The Council for the Elderly also gave its support along with businesses and hotels in the district, which made donations.
Among the presents Mrs Uzice received for her birthday was a cake donated by the Jj Spirit Foundation.
Mrs Uzice, who lives at Bel Ombre with her daughter Violet Uzice, was born on February 23, 1904 but left Seychelles at the age of 28 to spend some years in Kenya.