Discussing ways to curb risks caused by natural disasters
|19 May 2011
Held at the International Conference Centre, the one-day workshop on coastal erosion and flood management control on Mahe, Praslin and La Digue was run by the Japan International Cooperation Agency (Jica).
The study by the Japanese experts was made possible in response to an official request by President James Michel to the prime minister of Japan.
The Japanese government responded positively to assist Seychelles through its Cool Earth Partnership with a $3 million adaptation project.
Opening the workshop, environment principal secretary Didier Dogley said today, there is universal acceptance that climate change is real and is already impacting on us, especially those who are most vulnerable and least able to adapt to these natural events and catastrophes.
He said while global debate and negotiations on climate change linger on with very limited results, it is important that we, the most vulnerable, do not wait to take action and put into place the necessary measures to adapt to these serious challenges.
Mr Dogley said the current impacts of climate change cannot be better explained than through the reference to our rainfall patterns.
He noted that during our last rainy season, we received most of our rain within one week in February. This contradicts the usual pattern whereby we used to enjoy enough rain spread out during six months.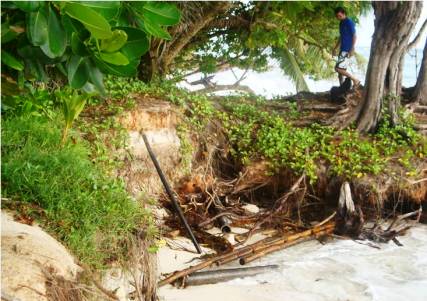 "This, as we all know, is already having a major impact on the water supply as most of our rivers have almost dried out."
Mr Dogley stressed that the issues of coastal erosion and coastal flooding have been identified as high priority issues for Seychelles in our National Climate Change Strategy.
The main islands of Mahe, Praslin and La Digue are experiencing major flooding events and coastal erosion in some areas at a very alarming rate.
He said until now, comprehensive adaptive measures have not been implemented due to the fact that the necessary baseline data are not yet available.
Mr Dogley said coastal management planning is one of the priorities of the new Environmental Management Plan of Seychelles 2011-2020. Activities in the plan include strengthening institutional capacity, formulation of appropriate legislation and the creation of protected zones which will be better able to adapt to climate change.
Mr Shuri Kaku of the Jica expert team in an overview of the study said Seychelles' coastal zone has been affected by several disasters in recent years. These include coastal erosion of Anse Kerlan, Praslin since 1986; the Indian Ocean tsunami in 2004, three days inundation in Victoria, also in 2004, and tidal flooding in north Mahe in 2007.
The scope of the study is also to implement pilot projects in order to confirm the effectiveness of the measures in the coastal erosion and flood management plan.
It also aims to undertake technical transfer to relevant personnel.
Among other topics discussed were existing issues of coastal erosion and flooding in the country, and the present status of meteorological observation - wind, rainfall and tide.