Up Close … with Marie-Flora Ben-David, poet and educator-'My focus has always been on my students'
|11 October 2011
These are the words of Marie-Flora Ben-David, a professional who has dedicated 25 years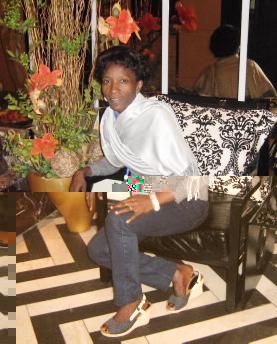 of her life in the education system and contributed to the development of her country.
Marie-Flora Ben-David, born Nourrice, is a talented poet, educator and curriculum development officer and to most of her colleagues and past students she is known as Miss Flora.
Born on August 9, 1964 at the Anse Royale hospital, Miss Flora is the eldest child on her paternal side and the youngest on her mother's side.
"I was born under the zodiac sign Leo and I believe in astrology and in the power of the sun and the moon on people," she said.
Miss Flora is a native of the Anse Aux Pins district where she still lives with her husband and seven-year-old daughter Cecilia.
"My daughter is my most valuable gift that I will cherish all my life. She is my everything, my source of inspiration," she said.
Education
For her primary and secondary education, she attended Saint Michael's school at Anse Aux Pins and then furthered her studies at the Regina Mundi convent for a year.
She was among the first students to join the National Youth Service (NYS) back in the year 1981. School of Education was her next stop until 1986 when she had her first job experience, being a teacher at the Anse Aux Pins school. She has also taught at Pointe Larue and Cascade primary schools.
In 1993 she went for her Bachelor of Education in Australia and upon her return, went back to Cascade for a year as a teacher of English at secondary level. She was again among the first students who went to Edith Cowan University.

Miss Flora then went back to NYS but this time as an English and Careers teacher. She then moved to Grand Anse secondary to take up the post of deputy pastoral.
Having seen her potential to develop her knowledge further, Miss Flora went for three years in France where she studied the Creole language.
She specialised in linguistic and socio-linguistic and how to develop Creole.
This has equipped her with more knowledge and skills to teach the Creole language in schools and to train teachers on how to teach it.
After her studies in France, Miss Flora joined the team of lecturers at the former National Institute of Education (NIE). She is now based at the Department of Education headquarters at Mont Fleuri as a curriculum development officer.
Her dreams and achievements
"I have achieved a lot especially academically as I spent my time studying and even until now I am still studying," she said.
"I never thought that from a trained teacher I would then become a curriculum development officer, it is a great achievement.
"But my greatest success is to have a family; I have a happy family and a daughter who means the world to me," she said.
Miss Flora has excelled academically at international level and has achieved international recognition for her artistic talent and passion - literature and poetry.
"While I was growing up I wanted to be a social worker, join the nursing profession or the police," she said, remembering her early life.
Joining the teaching profession was never part of her dreams but said she is happy that it has been so and is now a beautiful part of her life.
Miss Flora added that she has enjoyed teaching at the NIE and that making a difference in the lives of her students makes her feel happy.
Life as a teacher
"During my 25 years of teaching my focus has always been on my students; this is what has kept me going, because in a child's eyes you can see tomorrow."
Twenty-five years of service in the education field marks different stages of a journey and career longevity.

There are moments in life when we get discouraged and we want to quit, and in Miss Flora's life this was no exception.
"The first stage of teaching was when I started as a beginner, my probation year, not too sure; should I stay or should I quit? It was a period of unsteadiness and uncertainty," she said.
The second stage of teaching, five to 10 years of service, burned out, the need to change job; the third stage, 10 to 15 years of service, the drive to move forward, further studies and time to exhibit survival characteristics.
When she reached stage four, serving 15 to 20 years, Miss Flora described it as a much calmer period when she was less emotionally involved with her work as a teacher.
In stage five – 20 to 25 years -- she adopted a more professional attitude since most of her needs (social, economic, emotional …) as a teacher had been met.
"Now I can proudly say it is my greatest achievement. It is also the most interesting story of my life for it depicts a remarkable strength, courage, a sense of determination to continue in the face of adversity," she said.
"For me a true teacher does not only teach academic lessons but he or she guides his or her students in each and every sphere of life. I also feel that what I have written on the blackboard of each child's life will never be erased."
"I am thankful to the teacher-trainers because it is thanks to them that I am still in education, and I want to pay tribute to them for teaching me to learn on my own," she said.
Childhood recollections
This is the part of her life that she was reluctant to talk about during our conversation. Her reasons are numerous but to summarise it all, she simply painted it this way.
"The story of my childhood life is like a jigsaw puzzle with certain missing parts. Especially if I want to answer the question of 'who am I? What I term as 'identity quest'," she said.
"My childhood was also characterised by the calamities of life. It was marked by misery, poverty, sad or unfortunate events and loss. Such misfortunes had an effect on my life and career path."
But the desire to reconstruct and steer her adult life in a more conscious way and gain a sense of stability made her come to realise that she needed to divorce herself from these sad events, sounds, scents and flavours because they wake up emotions of her childhood memories.
She said the only happy memories that lift her being are the words of a wise man, her grandfather, who believed in her and in her ability to realise her dreams.
These were his words of encouragement pronounced to her when she came home with her P4 report card:
"Work hard my child, one day you will surpass all adversity of life and all you have to do is to believe in your dreams."
These words of wisdom had been her source of inspiration. And here she is today, giving wings to her dreams.
She was raised by her single mother, who had 11 other children apart from Miss Flora to take care of.
With a smile, she said: "I admire my mother for being such a brave, hardworking and courageous woman."
Realising the hardship in those days, Miss Flora said she preferred to spend her time studying and working in the community.
1981-1982, the most important period of her life
The period between 1981 and 1982 paved her way to success and to improve the quality of her life – her NYS days.
"It was the time that I really focused on the person I was, really wanted to be and to become. I am happy to say that NYS as an educational institution provided me with the chance to develop all the necessary skills, notably life skills," she said.
"There I learned that to achieve success in life one has to be independent, to perform to the best of his or her ability, to work hard, to set targets and have a strong sense of self discipline."
Strong beliefs …
"Women should be able to be strong individuals who are able to show courage and strength even in the face of hardships," said the determined-looking lady.
"As a teacher, I believe that every child is unique and has to be taught according to their uniqueness in a just and fair way."
"As a parent, I believe in educating my child for the society and for me to be a good role model to her," she said.
"My sense of life reflects the fundamental ways I relate to the world and to other people; it is my intuitive feeling of how things are and how they ought to be," she added.
As a person of principles, her philosophy is to try and make a real difference in the life of any person who enters her world.
"I believe that each individual is unique so I treat each person with dignity. I also believe in working hard to improve one's life and to achieve success."
Life as a poet
To write, one should have something to say and to share. Writing is an art, so one has to be an artist to conquer the world. For sure this urge comes from the core of inner self. To say it, one has to be creative in thoughts, creative when using language and creative when choosing and using words.
"Through the power of words, haunted childhood memories can be deconstructed. This is the basis, the core of my writing," she said.
"As I have said earlier, though I am reluctant to share the deepest corner of my existence, I use poetry to liberate my emotions. However, this is done in an artistic way."
"Here symbols are used; all the senses are developed and skills learned are put into practice in an artistic way to create mental images; words get wings to touch and conquer the world," she added.