New policies to recognise and benefit artists
|03 December 2011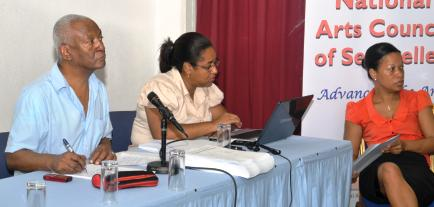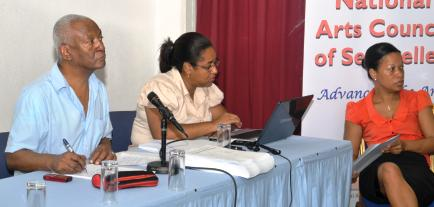 Artists during the mapping exercises at the ICCS on Mahe with Nac and Ministry of Social Development and Culture officers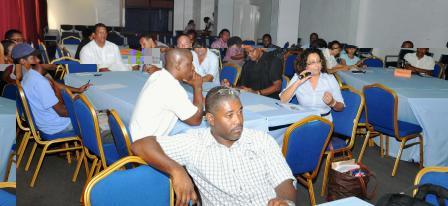 Artists in the fields of fine art, graphic design, fashion, textile, photography, film, video proprietors of art galleries and those involved in dance, theatre, writing as well as disc jockeys on Mahe, Praslin and La Digue gave their inputs during mapping exercises organised recently by the department of culture.
National Arts Council (Nac) chief executive Benjamine Rose, the director for policy within the Ministry of Social Development and Culture Peter Pierre-Louis and Nac director of creative industry Lydia Charlie also took part in the meetings.
Ms Rose said "the exercises have been organised to see how much artists contribute to the country's economy and also to hear ideas and views of the artists themselves which will help create a report".
Two consultants from the United Nations Educational, Scientific and Cultural Organisation (Unesco) will be helping the department come up with a new policy for the creative industry of Seychelles.
"This will help local artists progress and develop in their respective art forms," added Ms Rose.
Artists who took part in the sessions worked in groups and were able to give their opinions and ask questions in focused-group interview style.
"This is a stepping stone for the art community as this is the first move at developing the creative industry here," she said, adding "it is also a way to inform other ministries of the importance, growth and roles the creative industries play in the economy of Seychelles."
"I think it is vital to point out the importance of such a research and the positive impact it will have on the art community as a whole. We've heard of the Seychelles Authors and Composers Society (Sacs), and this initiative is taking things one step further in ensuring all artists – visual and performing – are protected and respected as professionals."
Ms Rose also said the activity will help give art its due importance and provide legal protection for artists seeking it.
Rebecca Chang-Tave