Victoria mosque pulled down, makes way for new edifice
|20 December 2011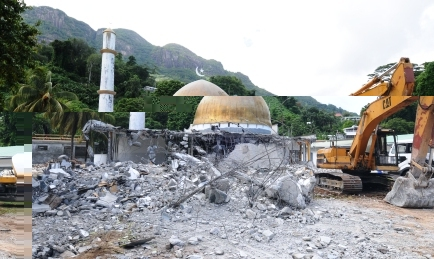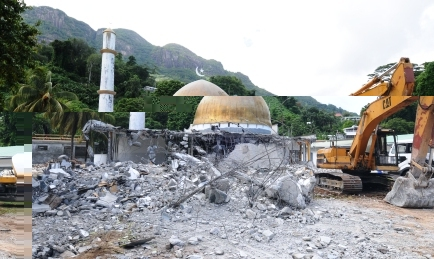 The project to build the new mosque is being financed by Sheikh Suroor Bin Mohammed Al Nahayan of the United Arab Emirates at an estimated cost of US $1 million.
The consultant for the project is Frankie Petrousse of Intrepid Consultancy and the contract for the construction has been awarded by the sponsor to Island Construction.
The contract for the building of the mosque was signed in October by Mohammed Amin Zainal Khouri on behalf of Sheikh Suroor, Mr Petrousse and the Islamic Society of Seychelles (ISOS) represented by its executive members, namely Ibrahim Afif, Iqbal Ibrahim and Rehana Chaka.
The project manager is Paraveez Mulla.
While the construction is taking place, a temporary prayer hall has been set up at a family home near the mosque's compound.
The Victoria Mosque was opened in September 1982 as a donation of Sheikh Muhammad Bin Khalifa Al-Nahayan. The mosque is almost 30 years old and was in need of major renovation to accommodate the growing number of Muslims in the country.