Up Close … with Caroline Abel, Seychelles' first female Central Bank governor-'I value the trust put in my ability'
|10 April 2012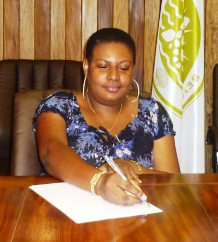 But how does a young woman like her view the job's big responsibilities and challenges which until now had only been shouldered by men?
Is she prepared?
Does she, to some extent, feel intimidated being a young woman surrounded by men in a world where so far very few women have ventured?
Does she feel that being a woman may undermine her ability to make and stand by her decisions?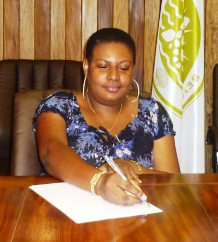 Ms Abel gives us the answers to these questions and talks about her passion for economics and her love for statistics which have helped to land her this top position.
Young and confident Ms Abel says she is prepared for this job. Since being appointed first deputy governor late last year following amendments to sections 2, 5, and 6 of the CBS Act 2004 introducing the posts of a first and second deputy governors, Ms Abel said she understood what was coming.
"I have been working with the institution for many years and I have witnessed and been part of its various stages of development. I have grown with the institution and I know how it operates and what the job of a governor entails," she said.
"I know I will have more responsibilities and decisions to take, challenges to face but it is with a lot of confidence that I am facing everything and with the support of a strong and professional management team, I know the CBS will continue to deliver on its objectives. As the governor I will ensure that this happens," added Ms Abel.
As the person responsible for the country's national reserves how does she feel?
Ms Abel said the CBS as an institution is responsible to make sure there is enough money in reserve to sustain our economy, ensure economic development and growth, control inflation. And this, she said, is not the responsibility of the governor alone.
For many people such a position of authority may seem so overpowering and intimidating but, Ms Abel said: "Yes, it is an important position of responsibility but one has to bear in mind at all times that the Central Bank is not only about the governor but a team of capable professionals. The team, including the governor, makes the institution and ensures it delivers on the goals within its mandate, and the governor endorses the final decision of the team."
Education and professional training
The eldest of two daughters of first Seychellois playwright Antoine Abel who passed away in October 2004, Ms Abel has always lived in Anse Boileau where she also followed her primary and secondary education. Between 1989 and 1990 she continued her schooling at the former National Youth Service on Ste Anne island and Port Launay. Her love for mathematics led her to choose the subject as well as economics and geography at advanced level studies at the then School of Humanities and Sciences at the Polytechnic.
After completing her three-year course she worked a few months at the Social Security Fund before moving to the CBS as a senior bank clerk in April 1994.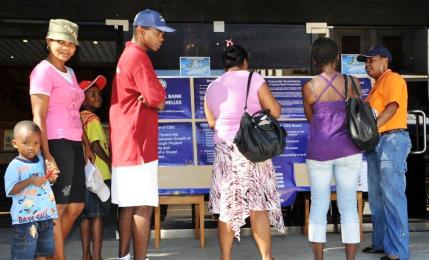 Through the CBS higher education scheme two years later she went overseas to study for her first degree in economics at the University of Leeds. On her return after three years she became a research officer in CBS' department of research and statistics.
Over the years she has followed several other training for economists and progressively climbed the ladder to become senior research officer and director of research. In 2004, she started a master's degree course in monetary economics at the University of Glasgow and in 2006 she was appointed head of the research and statistics division – a position she held until her appointment as deputy governor in July 2010. In December last year, she became the first deputy governor in line with the amendments to the CBS Act. Only a couple of months later, as part of the first phase of government restructuring, Ms Abel formed part of the increasing number of women President James Michel appointed to key positions. On March 14, 2012 she officially took her new post as governor of the CBS.
'I enjoy what I do so I do not feel stressed out'
Being someone who enjoyed doing mathematics, later statistics and economics – a love which later grow to become a passion – Ms Abel enjoys her work.
"I enjoy what I have been doing all these years and if you enjoy doing something and do it with love, it will not stress you out. Economics is an exciting field where there are always new things happening and I am always curious to know more all the time," she said.
Remembering her first few years at the CBS when everything was more routine, Ms Abel said this is no longer the case.
"The way of doing things at the CBS has gradually changed and every day everyone has something different to do and this is exciting and challenging," she said.
"Gone are those days when the CBS concentrated on writing reviews and reports. Since the introduction of reforms, the CBS is involved in a lot of new projects. These include the development of the country's payment system and the re-organisation of the financial supervision system," she added.
But as the new governor, are there things she plans to immediately review, change or abolish completely?
This is not the case and Ms Abel pointed out that "reforms in the CBS started a few years back and will continue".
"The CBS will continue to deliver on its work programme and as the governor I will ensure that the institution carries out the work as per its plans and objectives and that it remains professional and disciplined to respond to the needs of our economy as per its mandate," she stressed.
She admitted that as young as she is she still has a lot to learn – something she does every day – and a lot experience to gain as well.
"We have a very young team at the CBS but its ability should not be underestimated," she noted.
She explained that being probably the youngest CBS governor around is more apparent during international forums but for her this is not a barrier at all.
"The aim is to ensure the concerns of your country are tabled," she said, adding that Seychelles' economic reforms and those of the CBS are often sought as example in international forums.
With the CBS introducing new policies in line with its continued development Ms Abel said the institution will seek outside expertise as required.
She again stressed that the objectives of the institution have not changed but it is only its operations which have been reviewed to include many new components.
Since her appointment, Ms Abel said she has received and is still receiving words of encouragement and support from her family, the former governor, colleagues, the public and the business community. Based on these positive reactions, Ms Abel believes this is a good sign, boosting her confidence.
She said so far she has met all the CBS stakeholders and work has been going on as planned.
Relation with the government

The successor of new Finance, Trade and Investment Minister Pierre Laporte, who has more experience having worked with the International Monetary Fund (IMF), does Ms Abel feel she has enough power to ensure the government maintains fiscal and monetary discipline?
She has described relations between the government and the CBS as "a coordinated collaboration" where since the liberalisation of the economy all actors have to work closely together to maintain stability on the foreign exchange market which has also been liberalised.
"As a small economy which could be affected by any external shock, all our fiscal policies have to be coordinated," she said.
She further noted that when the country embarked of the economic reforms in 2008 it was not the decision of one person or any individual alone, but it was the country which decided that this was the way to move forward and CBS and the government came together with a programme to reflect the changes that the country wanted.
She said Mr Laporte's experience was an added benefit which helped when the country started negotiating with the IMF.
Family life

Ms Abel says she has strong ties with her family but admits she does not have much time to socialise. The little time she has for herself, she prefers staying quietly at home where she enjoys reading. She has no children but enjoys the closeness of family life. Being a catholic she goes to church on weekends whenever she has the chance.
M-A. L.