Mauritian Prime Minister Dr Ramgoolam's visit in pictures
|23 June 2012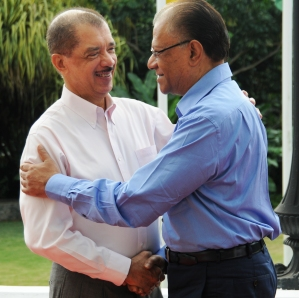 Soon after his arrival Dr Ramgoolam became the first foreign VIP to plant a coco de mer sapling at the country's new arboretum at the Barbarons Biodiversity Centre.
On the same day President Michel and his wife Natalie hosted a banquet for him at the Kempinski resort.
On June 18 he discussed state affairs in a tête-à-tête meeting with President James Michel at State House before joining a working session with Vice-President Faure and ministers to discuss cooperation projects between Seychelles and Mauritius on matters of trade, security, education, tourism, health and Indian Ocean Commission cooperation.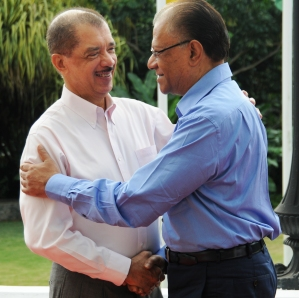 Mr Michel and Dr Ramgoolam signed a joint letter addressed to the United Nations secretary general formally informing him that the landmark treaties for the Joint Exercise of Sovereign Rights and the Joint Management of the continental shelf in the Mascarene Plateau region has entered into force.
Dr Ramgoolam and President Michel witnessed the Minister for Foreign Affairs Jean-Paul Adam signing of two memorandums of understanding with Mauritius' Minister for Foreign Affairs, Regional Integration and International Trade of the Republic of Mauritius Dr Arvin Boolell.
He attended the National Day parade on June 18 at Stad Linite where Mr Michel addressed the nation saying we were honoured to have Dr Ramgoolam among us, saying he is a great friend of Seychelles.
"Prime Minister, you are as much at home here as you are in your own country. It is an honour and a pleasure to have you with us. We appreciate your presence which is a testimony of the friendship and renewal of the strong links – very strong ties – that exist between our two countries and our peoples," said Mr Michel.
"The bonds forged over time by what Mauritius and Seychelles share together – our history, our language and many cultural aspects, our democratic and human values, our ocean, and, in a world that is increasingly complex and in turmoil, we have a strong desire to work together for the wellbeing and prosperity of our two peoples and of our Indian Ocean region, for the interests of small island states, and for a world economic and political order that is more just and harmonious. It is my wish – and I know it is yours too – that Mauritius and Seychelles strengthen their links even further, in many fields. Together we will continue to strive to bring sustainable and dynamic development to our region.

"Together, and especially through the Indian Ocean Commission, we will continue to work to bring the peoples of the Indian Ocean closer together. Thank you for your solidarity and friendship, and for sharing this moment with us," he said.
The Mauritian PM also addressed a special session of the National Assembly and interacted with members of the assembly (MNA) before he was seen off at the Seychelles International Airport by President Michel, Designated Minister Vincent Meriton, speaker of the National Assembly Dr Patrick Herminie, president of the Court of Appeal Francis MacGregor, ministers, leader of government business in the National Assembly Marie-Antoinette Rose, leader of the opposition in the National Assembly David Pierre, members of the diplomatic corps and senior civil servants among other people.

The premier addressing the National Assembly