Care launches new drug fight theme in schools
|27 June 2012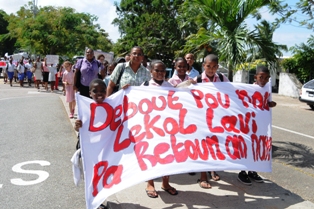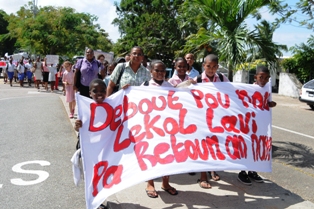 The theme was officially launched by the chairperson of Campaign for Awareness, Resilience and Education against substance abuse (Care) Sarah Rene yesterday at the Seychelles Trading Company's conference room.
Attending the ceremony were Designated Minister Vincent Meriton, who also heads the Ministry of Social Affairs, Community Devlopment and Sports, principal secretary for social affairs Linda William Melanie and chief executive of the Seychelles Children's Foundation Noella Gonthier.
Others present were director of Care Robert Ah-Weng, heads of schools, Care club coordinators and members.
Mrs Rene said the new theme is one which has major importance.
She said there is a need to keep working with the children and other young people to help them choose the right path instead of turning towards bad influences such as substance abuse.
Mrs Rene congratulated the Care club coordinators for their good work and urged them to keep working hard to help make a difference.
Addressing those present, Odile Octave, director general for schools, said the theme represents an extra motivation and an encouragement to seek what is best for our future.
She added that a good education is the key to a bright and successful future.
Mrs Octave said there is a need to move forward with determination and to develop their values which will allow them to become skilful in their everyday lives.
She called on the young generation not to let bad influences affect their future and the communities where they live.
Mrs Octave urged them to join the fight and to help create an ideal society.
The launch, which coincided with the International Day against Drugs Abuse and Illicit Trafficking, started with blessings and prayers by Anglican Bishop French Chang-Him.
He said the theme is in line with national efforts to boost social and moral renaissance.
During the ceremony, four teachers gave presentations on the projects under the new theme which they plan to carry out, while Mr Ah-Weng gave an overview of the theme and reasons for choosing it.
Care club coordinators were also presented with their badges as recognition of their hard work.
Students from Grand Anse Mahe primary presented a sketch while those from Takamaka primary performed a song entitled Lespwar Lavenir.
Prior to the launch, coordinators and members took part in a march which started at Care House.